FleetCam® Overview
FleetCam® is an all-in-one camera system for fleet vehicles. It is designed to provide transparency to managers, and help improve driving habits with in-cab notifications and an integrated driver behavior coaching system.
Number of Cameras
FleetCam® supports up to 8 cameras per vehicle. These cameras can be pointed at the road, the driver, back-doors, interior (e.g. for buses), and many other custom configurations. The basic system includes a camera focused on the road and another on the driver.
Popular Camera Angles
Road (AI optional)
Driver (AI optional)
Outside Rear
Outside Front
Driver Outside
Passenger Outside
Passenger Front
Passenger Middle
Passenger Rear
Cargo Back
Cargo Front
Cargo Middle
Trailer Inside
Trailer Door
Video Resolution
FleetCam® supports video resolutions of up to 1080p at 30 FPS (frames per second). The default resolution is set lower than full HD to conserve cellular data usage in most cases. However, this setting is configurable.
Some camera models (e.g. FleetCam® Essential) provide video in high definition without the option to downgrade to a lower resolution.
Default Video Resolution
Video footage (in camera storage): 720p
Download video remotely (from storage): 480p or full HD
Live Streaming: 480p (configurable)
Historical Streaming: 480p (configurable)
Audio Options
FleetCam® cameras can be configured to enable or disable audio, and audio is disabled by default. In most cases where audio is enabled, only one of the cameras is configured to provide audio. This way, when streaming multiple cameras, you won't have two or more competing audio streams making it difficult to hear.
FleetCam® Offline Reader
The FleetCam® Offline Reader is a desktop application that lets you physically connect the camera's storage unit (hard-drive/SD card) to your computer and copy video footage to your local hard-drive. This tool is useful if a camera or vehicle was damaged and/or cannot connect to the internet to download footage remotely via IntelliHub®.
Click to Download the Installer
DMS & ADAS (AI)
DMS (Driver Monitoring System)
DMS is a driver monitoring system that uses a camera and artificial intelligence to track the driver's eye movement and behavior. The system can detect if a driver is distracted, falling asleep, using a prohibited item, and other types of unwanted behavior.
Examples of DMS Events:
Driver Falling Asleep
Driver Distracted
Driver Smoking a Cigarette
Driver Using Cellphone
ADAS (Advanced Driver Assistance System)
ADAS is a road monitoring system that uses a camera to track how close the vehicle gets to other vehicles and objects. The system also tracks when the vehicle makes an unsafe lane change, or drifts out of its lane.
When unsafe behavior occurs, the driver is given a real-time audiovisual notification inside the vehicle's cab as an alert to change the behavior.
In addition to the in-cab notification, video clips of events are generated and made available in IntelliHub® (the web portal) for review and coaching by a manager.
Driver Behavior Coaching
FleetCam® detects unwanted driver behaviors and generates video clips for the manager to review and use for coaching purposes. Events like speeding, harsh accelerating/braking, and falling asleep at the wheel are all captured. See full list of captured events here.
Once an event has been detected and recorded, a video clip is automatically uploaded to the server so it can be viewed in IntelliHub®. These video clips include 5-10 seconds of extra footage before and after each event to show you what led up to the incident and what happened after.
You can watch the video, review the behavior with the driver, assign a coaching status to the clip, add additional comments and more using the web portal.
Driver Behavior Events (View & Coach)
Event Detection
Harsh driving events are generated when a G-force shift is detected that exceeds the thresholds for normal acceleration, braking, or cornering.
AI Events (DMS/ADAS) are generated when the automatic continuous analysis of the AI system monitoring the driver and road recognizes undesired behavior or movements. In some cases, the AI is cross-referenced with additional sensor data to, for example, detect lane departure without the driver using the blinker.
PTO (Power Take-off) events can be generated whenever a digital input is triggered, such as when a tow-lift or siren is engaged.
Transmission to Servers
Once an event has been detected, the video and a record of its details are transmitted to the FTS Servers via a cellular network connection. This event recording is placed in the queue to be downloaded immediately; there is no wait time.
Debouncing
Certain event types are dismissed if they occur within one (1) minute of a previous event (of the same type). This is to eliminate repetitive event records for the same driver action.
Downloads Queue
All video transmissions from the FleetCam® unit to the FTS servers are placed in a downloads queue, and are downloaded sequentially. This includes driver behavior events, historical video download requests, and saving live/historical stream footage.
The downloads queue shows the current status of each video:
Queued
Downloading (with a percentage indicator)
Complete
Once a video has been downloaded successfully, click on it to play the video. The video will remain available in the queue for 24 hours after it was downloaded.
To see a vehicle's queue, go to the vehicle's FleetCam® Dashboard and click the Queue button on the header.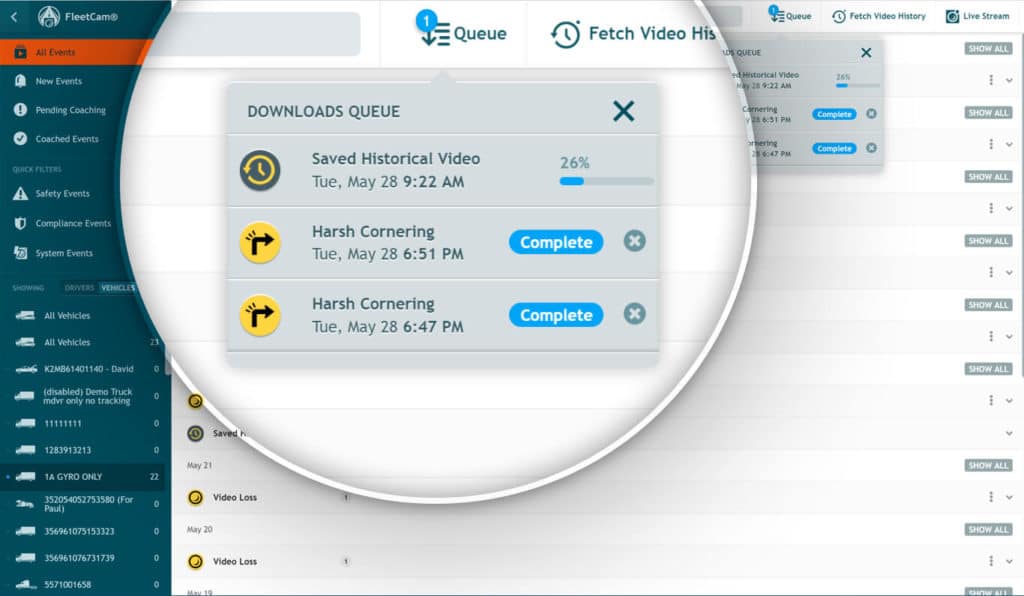 Types of Events
Driver Behavior Events
Camera Covered
Driver Distracted
Driver Falling Asleep
Driver Smoking
Driver Using Cell Phone
Driving too Close
Harsh Accelerating
Harsh Braking
Harsh Cornering
Lane Departure Without Signaling
No Driver Present
Risking Collision
System Events
Low Voltage
Memory Error
System Error
Unexpected Power-down
Unexpected Power-up
Video Loss
Non-Video Events
Certain events are not set to automatically download a video clip when they occur (although the video is retrievable as long as it's in the camera's storage). In these cases, only the details of the event are transmitted, but the actual video footage is omitted by default. The footage can be retrieved manually in IntelliHub®.
By default, the number of events that auto-download video is limited to a sampling of five (5) per type, per day, for each vehicle. For example, if a vehicle has already generated five harsh braking events today, any additional videos of harsh braking events will not automatically download. Only the event's details will be downloaded.
This is to reduce unwanted clutter and let managers coach the pattern of behavior rather than each individual instance of the behavior. Limiting the number videos also reduces unnecessary cellular data usage.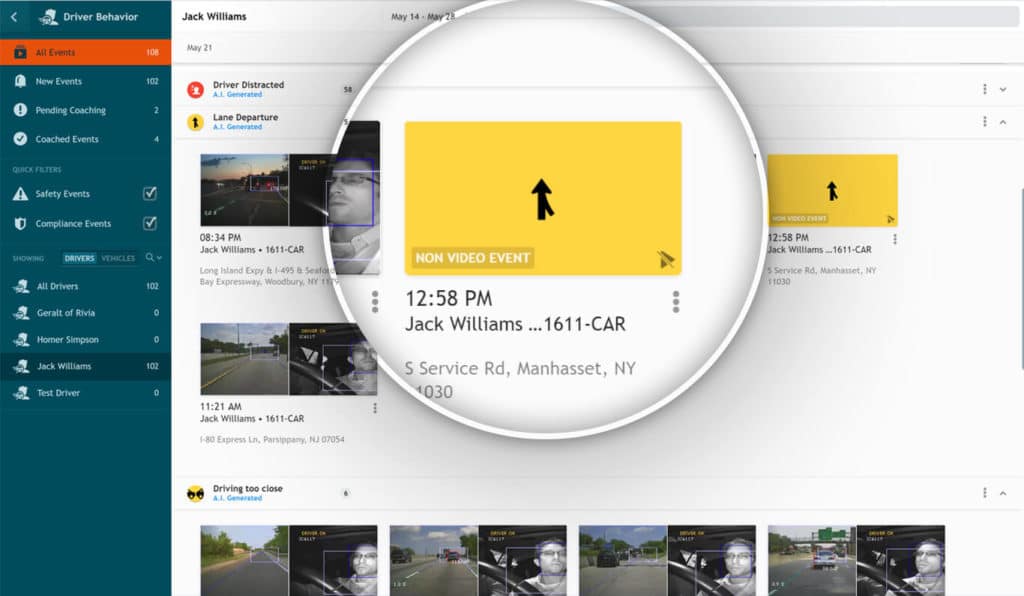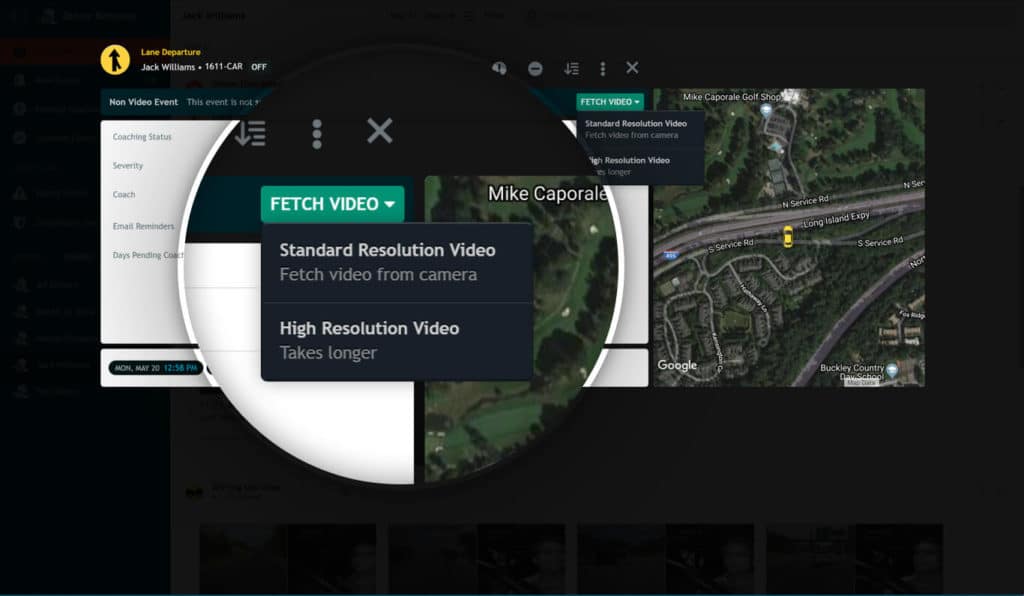 Play & Coach Events
Event Playback
The following information is displayed when playing an event video:
Video Duration and Current Time Index
Event Trigger Indicator (showing the moment when the event occurred)
Metadata for each second of the video (including time, speed, direction, and address)
Map Visualization (showing the breadcrumb trail of the event and the vehicle's location during each second of the video)
Dynamic Video Arrangement
The various camera angles are arranged and sized in order of importance for each type of event. Driver-centric events prioritize the driver camera and road-centric events prioritize the road camera. Additional camera angles are sized and positioned to let the user grasp all camera angles at once. Additionally, each video can be viewed in full screen by clicking its Full Screen button.
Coaching/Managing Events
An IntelliHub® user who has been designated as a Driver Behavior Coach (see how) can perform the following coaching actions:
Set coaching status (Needs Coaching, Coached, Dismissed)
Set severity of event (Low, Medium, High)
Add a comment
Additional Options:
Fetch High Resolution version of the video (contingent on camera hardware support)
Download video files to computer
Delete the event
How to Find Events
There are several ways to find and play/manage events:
Driver Behavior / FleetCam® Dashboard
This is a fleet-wide dashboard that displays all driver behavior or FleetCam® events.
Event Markers in "Full Activity" Map (Breadcrumb-trail)
Each vehicle's Full Activity breadcrumb trail shows driver behavior event markers on the map. Clicking on a marker will display the event's summary along with an option to view the video footage.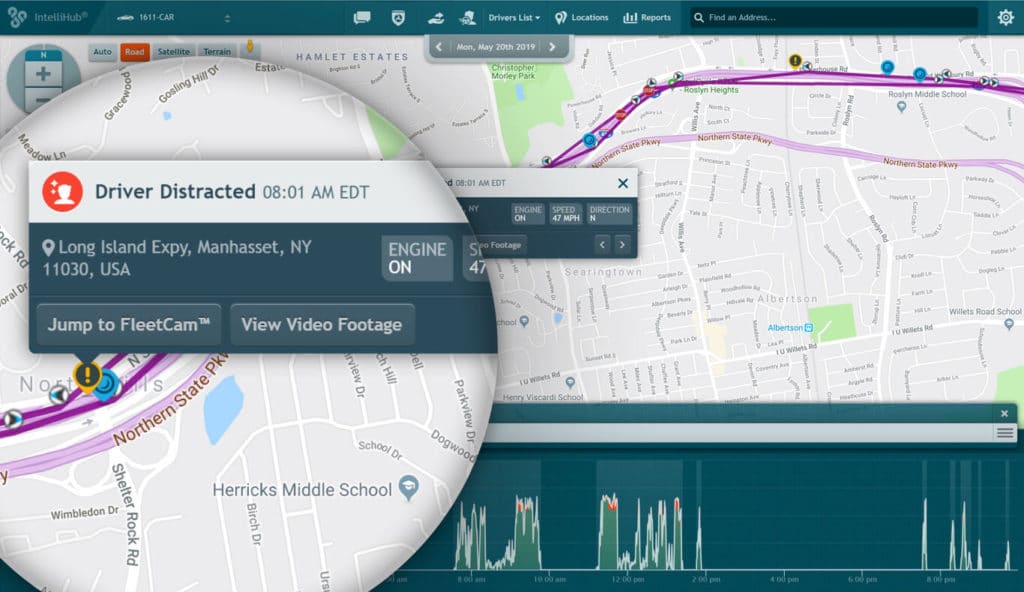 Driver Behavior / FleetCam® Dashboard
The Driver Behavior Dashboard displays all driver behavior and vehicle events, fleet-wide. Select a specific driver or vehicle to refine the list of events.
To open the driver behavior dashboard, click the Driver Behavior button on the main header.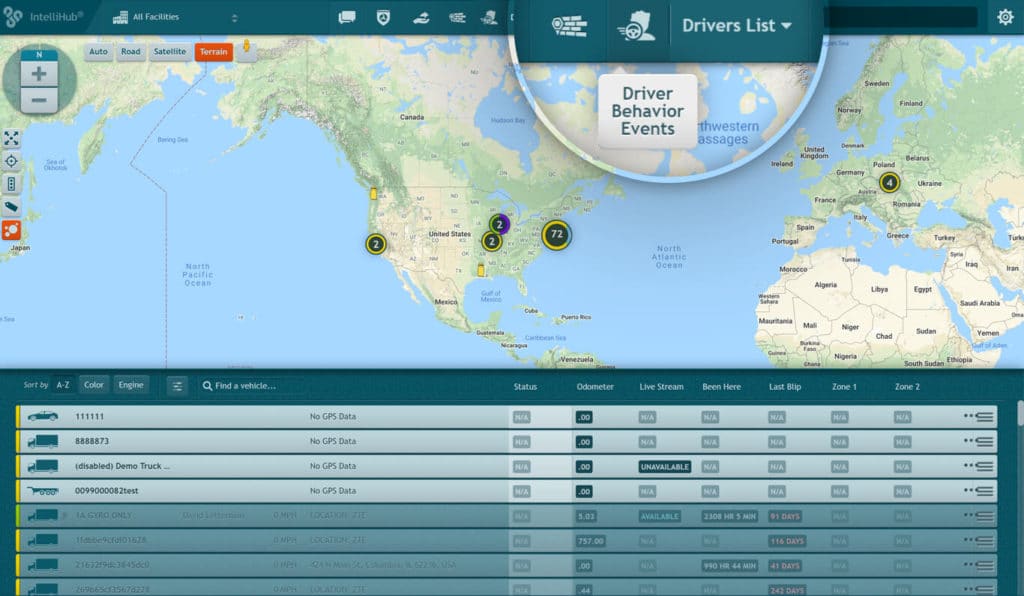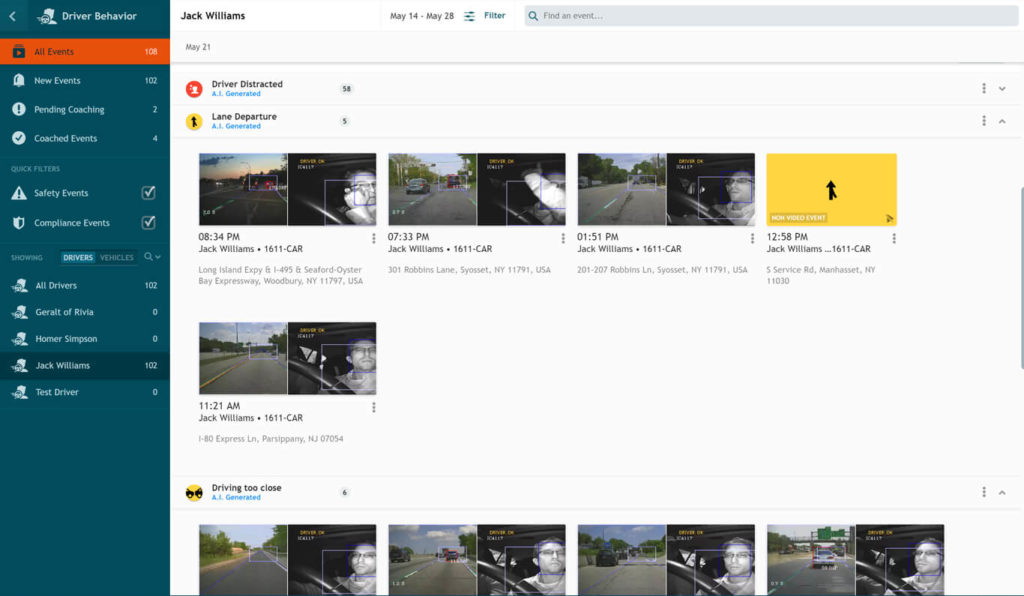 Driver View
When a specific driver is selected, the dashboard shows all the events generated by that driver, even if he/she triggered them in multiple vehicles.
Vehicle View
When a specific vehicle is selected, the dashboard shows all events (including system events) generated in that vehicle, even if multiple drivers were responsible for generating them.
You can also start a live stream, fetch historical video, or view this vehicle's downloads queue on this screen.
Events List
The events list accordion shows events grouped by date and type. The accordion is collapsed by default.
Each event list item is displayed with:
Date/Time
Vehicle Name
Driver Name
Address
Thumbnail images from all cameras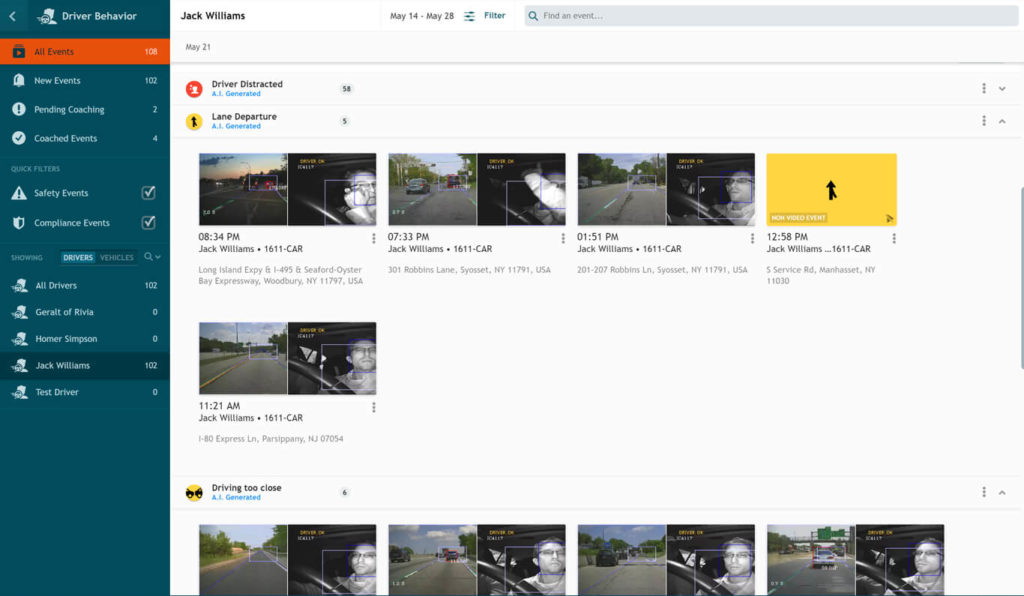 If multiple non-video events are present, they will be displayed in a single cluster for the sake of clarity and ease of use. The cluster can be expanded or collapsed by clicking on it.
Play an Event
Click on an event to play the video and reveal the coaching management interface.
Set Coaching Status
Each event's actions-menu lets you quickly set the event's coaching status to Coached or Needs Coaching.
To set the coaching status for multiple events at once, open the Event Type Header's actions-menu, and select the desired status.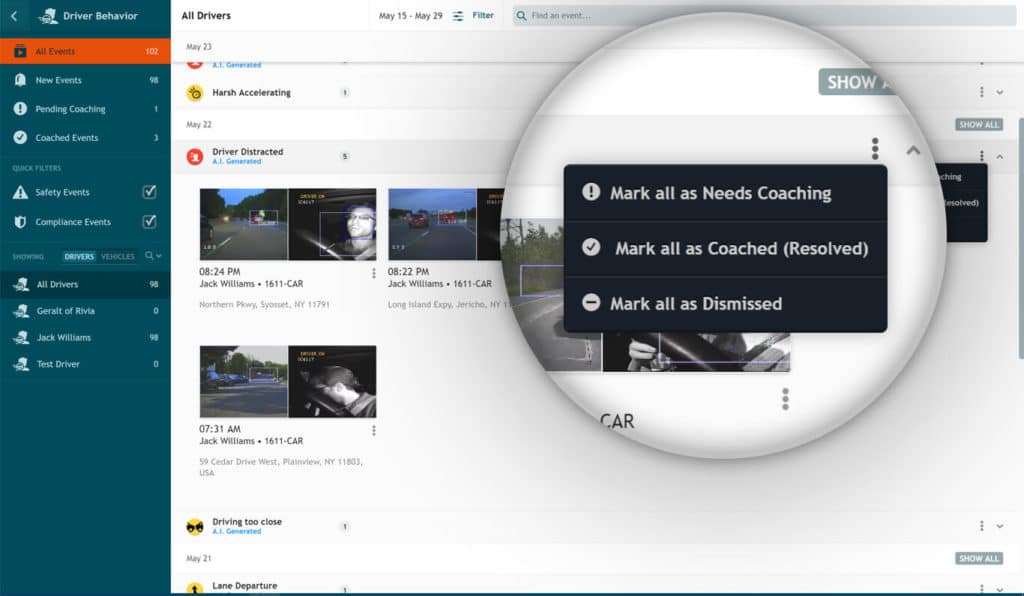 Filter Events
To view only events of a particular type of coaching status (e.g. Coached Events), select the desired tab in the sidebar navigation area at the top-left of the screen.
To refine the list of events even further, open the filter panel and modify any of the following options:
Date-range (of events list)
Show/Hide Event Types (excludes unwanted events from the list)
Show other coach's events (shows/hides events for which other coaches are responsible)
Group by Date/Type (sorts events by Date > Type, or by Type > Date)
Expanded list (sets the events list accordion to expanded or collapsed)
Save as default (saves these filter preferences for subsequent visits)
Apply (apply filter without saving as default)
Reset (revert to your default filter preferences)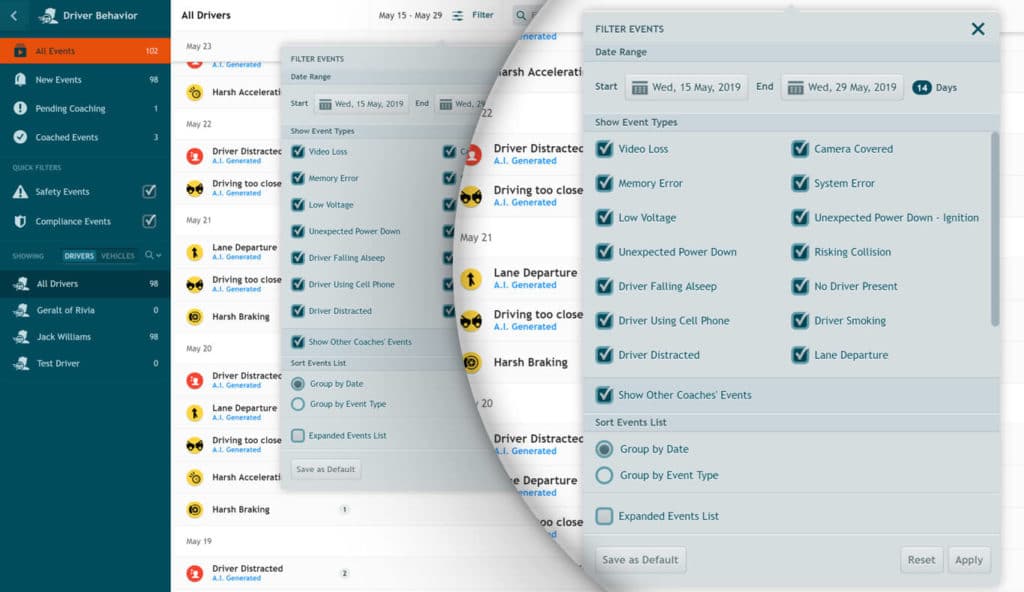 Search for Events
The search field lets you find specific events by the following search criteria:
Vehicle Name
Driver Name
Event Type
Address
Date
Time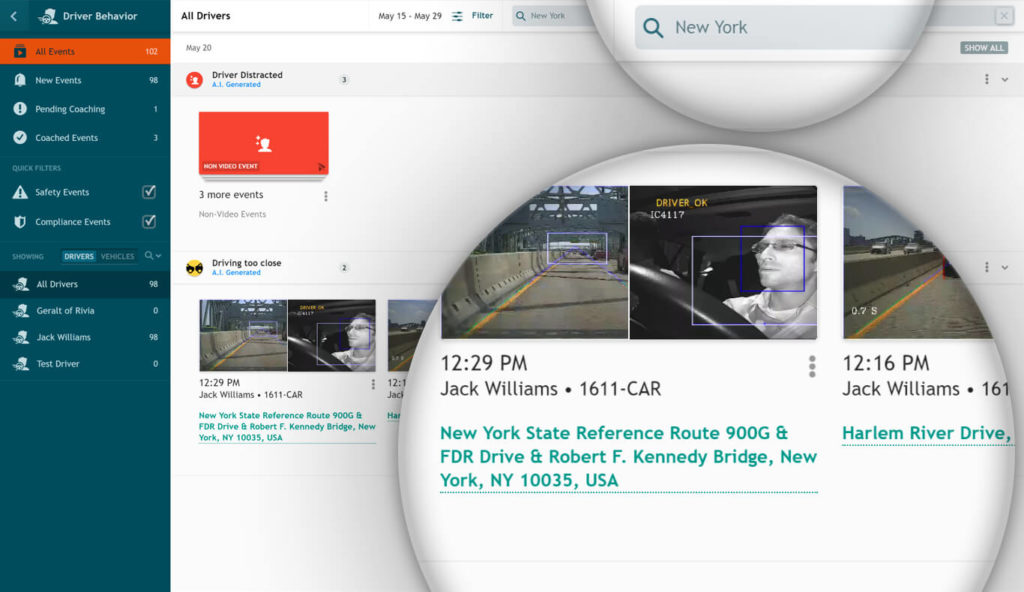 Note: The search function only returns results that match your current filters. If you filtered the list looking for a specific coaching status and date range, events that don't match those filters will not be included in your search results.
Live Streaming
What is Live Streaming?
Live streaming lets managers watch a vehicle's video feed remotely in real time. Since the FleetCam® unit draws its power from the vehicle, the vehicle must be turned on for a live stream to be initiated.
Up to 6 cameras can be streamed at once (per vehicle), and multiple users can stream footage at the same time.
To start a live stream:
Click Live Stream > Select Cameras > click Start Stream.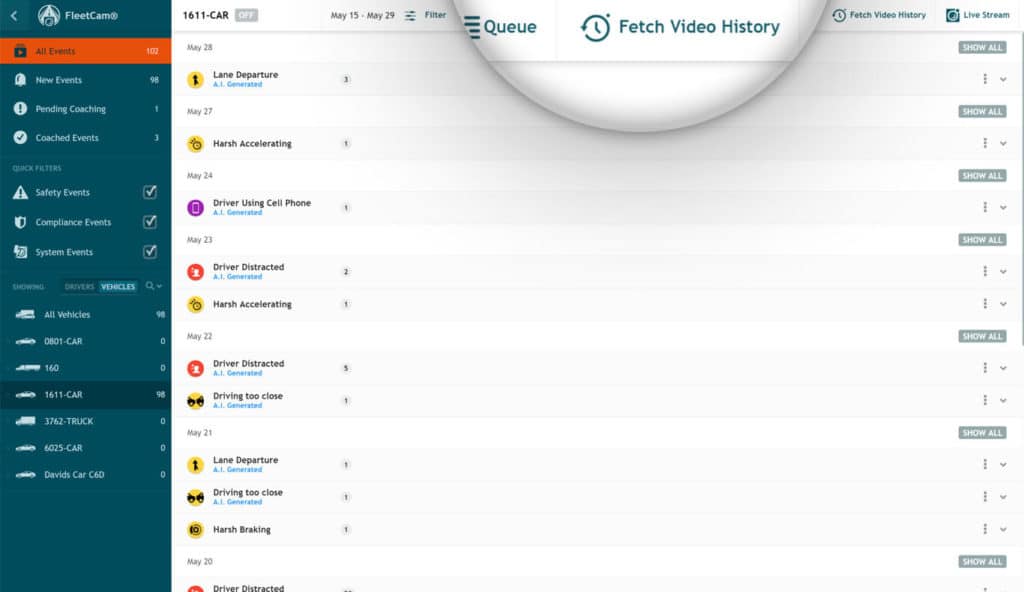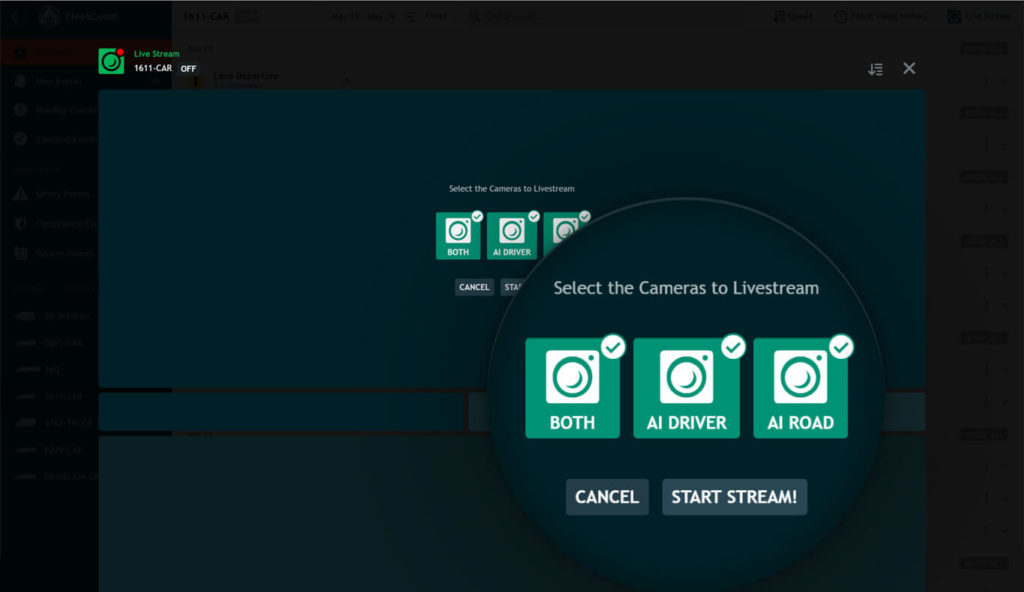 Stream Duration
By default, a live stream lasts for 60 seconds, and it can be extended when it nears the end. The default duration is configurable.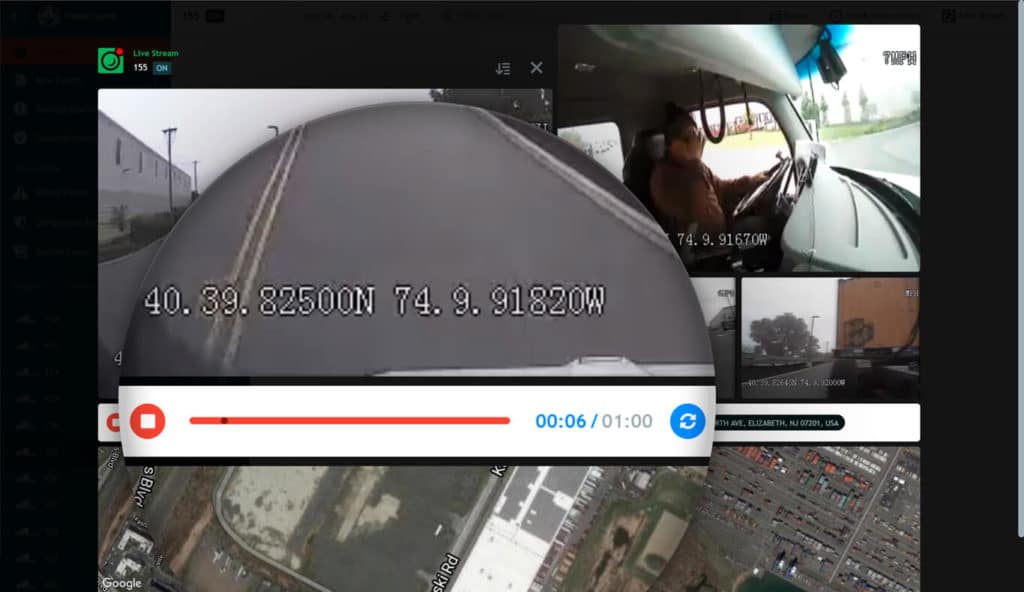 Streaming Details
Video Resolution
By default, live streams display video in 480p to conserve cellular data usage; this resolution is configurable.
The following information is displayed and updated every second during a live stream:
Time
Direction
Address
Current location on the map
Remaining time until the stream ends
After a stream is finished, you can save the footage to view later by clicking Save Live Stream. The saved video will be displayed in the vehicle's FleetCam® dashboard.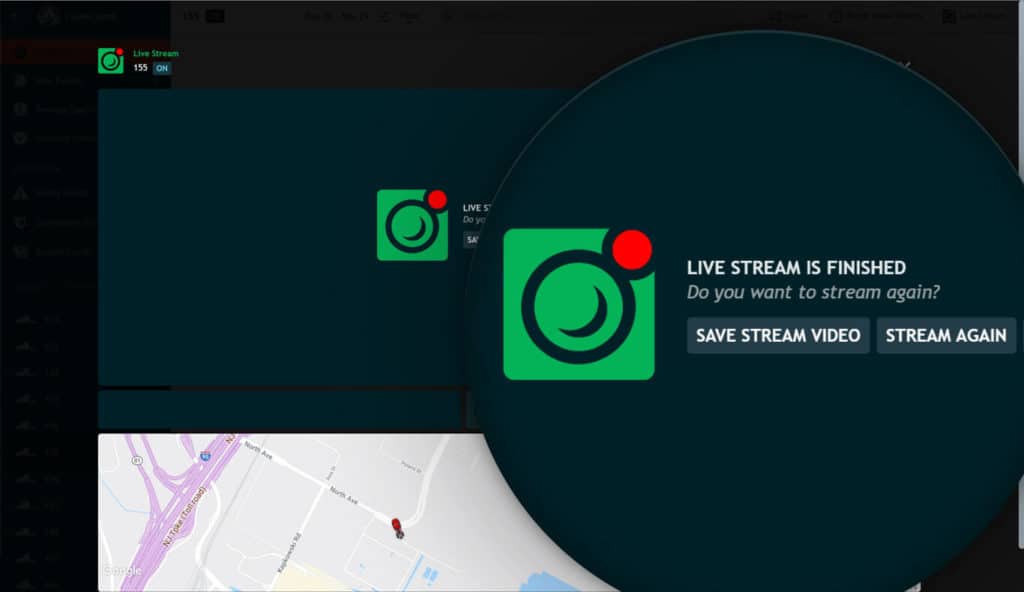 Fetch Video History
What is video History?
The FleetCam® unit continuously records video while the vehicle is turned on. This video can be accessed remotely from IntelliHub® for as long as it remains in the FleetCam® unit's storage (hard-drive/SD card).
Please note that the vehicle and camera must be powered on in order to fetch its video history.
Video footage remains retrievable from the FleetCam® unit's storage for a range of hours to months, depending on the hard-drive/SD card being used and the amount of recorded footage on the device. Newer footage automatically overwrites the oldest footage when memory storage becomes full.
The following information is displayed and updated each second while watching video history:
Time
Direction
Address
Location on the map
Remaining time until the stream ends
Historical video footage can be retrieved using either one of these two methods:
To fetch historical footage by either method, go to the vehicle's FleetCam® Dashboard and click Fetch Video History.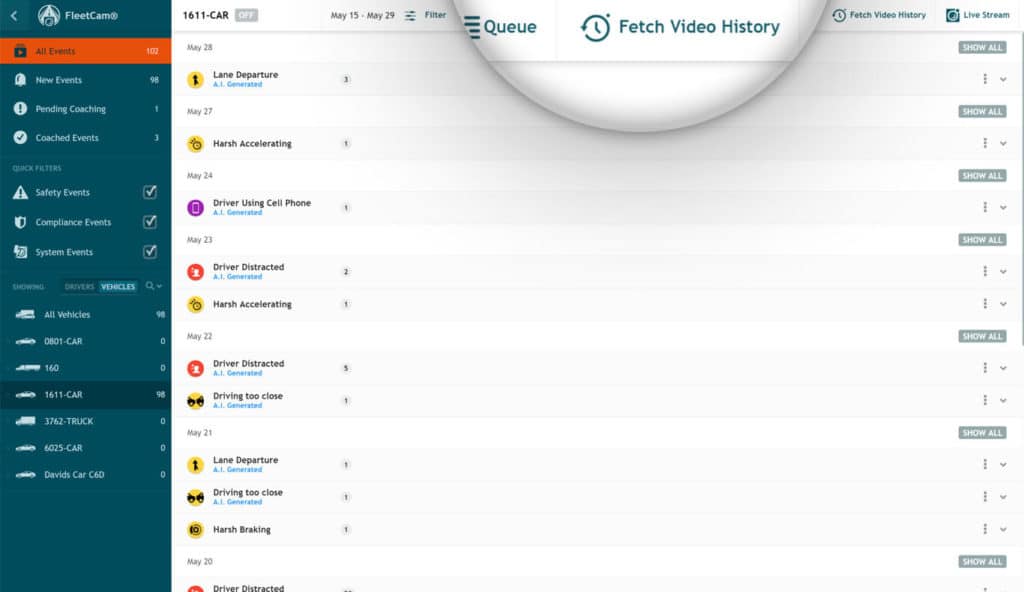 Here, you can select the camera angles you want to see, specify the date, time, and duration of the video, and see helpful insights about the vehicle's status at your selected time.
Helpful Insights
Once you've selected the date and time you specifically want to view footage from, the following insights are displayed to help you preview the vehicle's status at that time:
Storage Graph: Shows the time range of available footage in the FleetCam® unit's storage.
Thumbnail Snapshots: Images captured by the vehicle's cameras at the requested time (or within 5 minutes of requested time).
Address: The location of the vehicle at the requested time.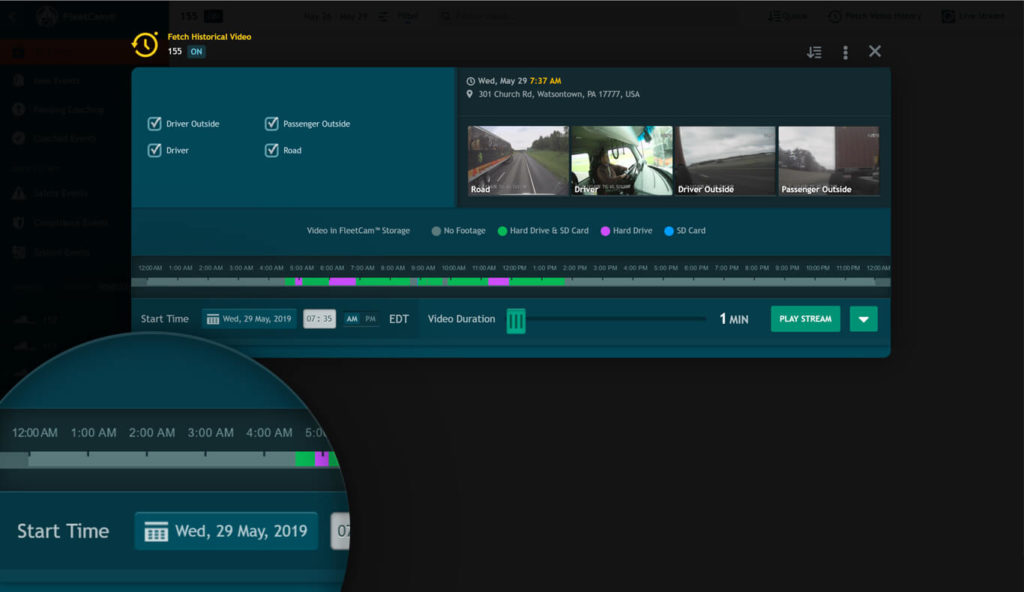 Method 1: Streaming
Streaming is a convenient way to quickly watch historical footage. This method is like live streaming, but instead of watching what's happening now, you will be watching what happened in the past.
The main advantage of this method is that you can initiate a historical stream immediately, without having to wait for a file to finish downloading.
To initiate a historical stream, specify a date, time, and duration, and click Play Stream.
If you want to continue the stream past the initially specified duration, you can extend it by clicking the Extend button while the stream is ongoing.
After the historical stream is finished, you can save the footage for later viewing by clicking Save Stream Video. The saved video will be displayed in the vehicle's FleetCam® dashboard.
Method 2: Downloading
As opposed to streaming, the Download method submits a request to the FleetCam® unit to transmit a video file to the FTS servers; this video is then available in IntelliHub®.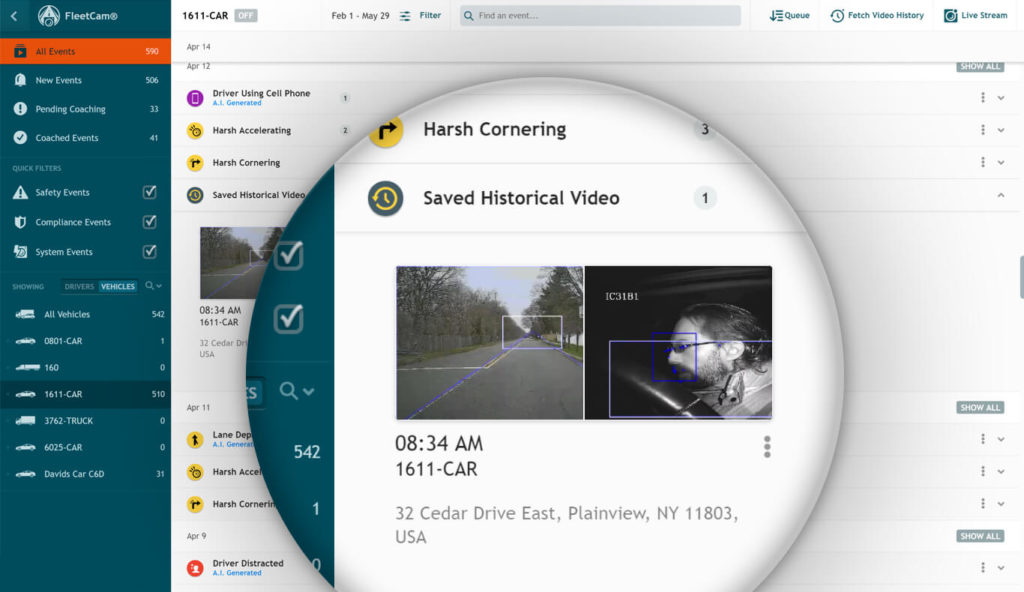 There are two main advantages to this method. The first is that you can select the video resolution you want to download (assuming the hardware supports multiple video resolutions), and the second is that you don't need to watch the video before saving it. You can simply make the download request and return when it has finished downloading.
This is especially useful when you know exactly what you're looking for and you just want to save the footage for later review.
To download a historical video, open the options drop-down and select the video resolution you wish to download. This will initiate the download request and add it to the downloads queue. Once it finishes downloading, you can click on it in the queue to play the video, or find it in the vehicle's FleetCam® dashboard.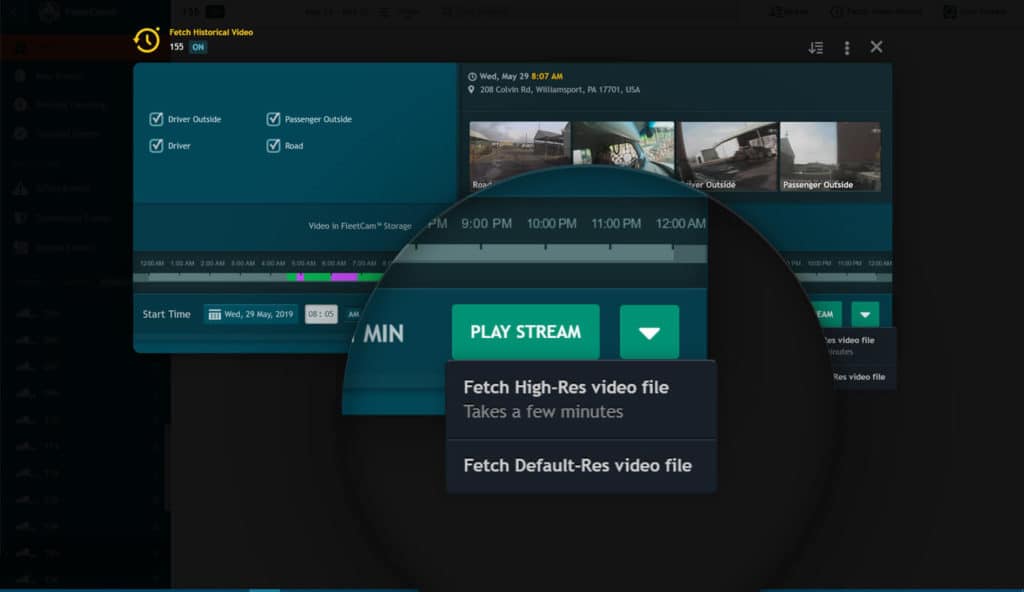 While playing the downloaded video, you can save the video files to your computer's hard drive. To do so, play the video and click on the Download button in the player's header.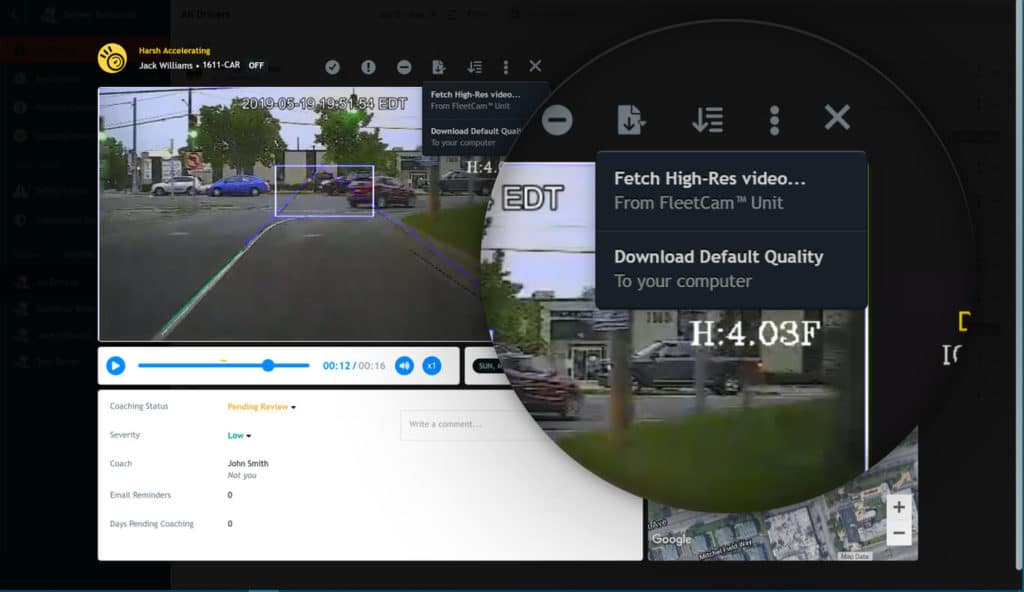 Settings
Permission Settings & Coach Setup
Permission Settings By User
Each of the following activities can be enabled or disabled for any user by going to:
Global Settings > IntelliHub Users > Select a user > Expand the FleetCam® Permission Settings accordion.
View Camera Events: See behavior/saved videos from vehicles/drivers in this user's facilities
Live Stream: Start a live stream for any vehicle in this user's facilities
Fetch Historical Video: Start a historical stream or download historical video for any vehicle in a user's facilities
Delete Events: Delete driver behavior events and saved videos
Coach Setup
Any IntelliHub® user can be designated as a coach. A coach is responsible for specific drivers and has access to view and manage drivers' behavior events.
A coach can also be given access to view and manage other coaches' driver behavior events.
Designate a User as a Coach
To set up an IntelliHub® user as a coach, go to:
Global Settings > IntelliHub Users > Select a user > and enable the Driver Behavior Coach checkbox.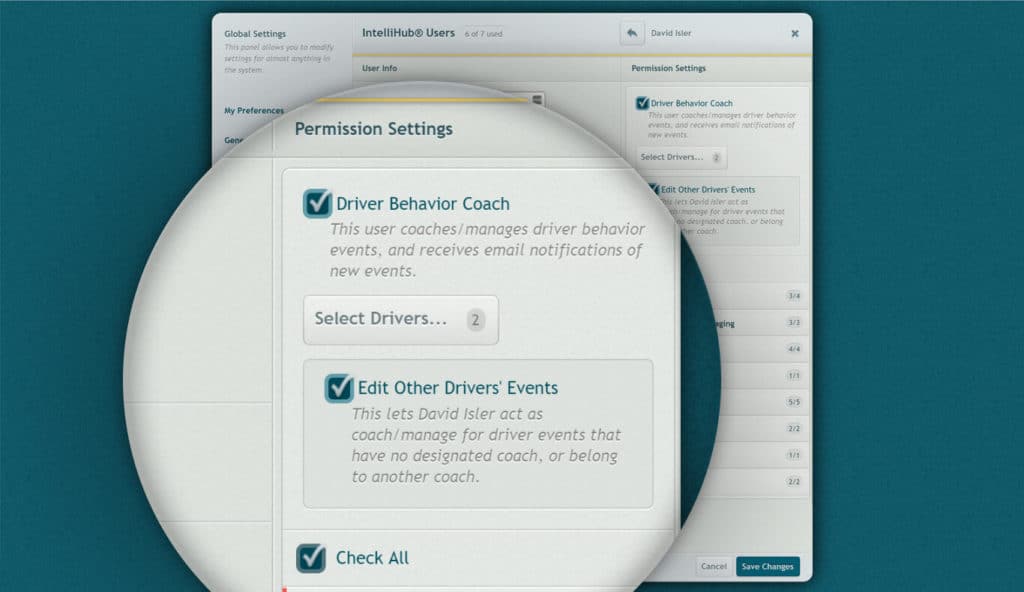 Select this Coach's Drivers
Now you can select which drivers this coach is responsible for by clicking Select Drivers… and adding drivers from the list.
Assign Coach by Driver or Facility
There are two additional ways to assign a coach to drivers. The first is to go to a driver's settings and select a coach from the Driver Behavior Coach dropdown. The second is to assign a coach to an entire facility; this will designate the specified user as the coach for all drivers in that facility.
To assign a coach by Driver, go to:
Global Settings > Drivers > Select a Driver > Select a coach from the Driver Behavior Coach dropdown
To assign a coach to a facility, go to:
Locations > Facilities > Select a facility > Edit Facility… > Select a coach from the Driver Behavior Coach dropdown
Enable/Disable Driver Behavior Events
You can control which driver behavior activities should generate a video clip and coachable event by going to Global Settings > Driver Behavior Events. Here you can enable or disable any of the behavior types.
Enable/Disable System Events
You can control which FleetCam® system events (e.g. Memory Error) should generate an event record by going to Global Settings > FleetCam®.