The latest update to Field Warrior®, our mobile workforce management app, has over 100 new features, improvements, bug fixes and design changes that include a new unassigned route selection feature, an AOBRD or ELD Mode indicator, and better access to custom forms.
Unassigned Routes & Dispatch Upgrades
Field Warrior® 4.0.310 improves the way dispatch handles unassigned stops. Now, you can assign entire routes to fleet drivers instead of having to assign them stop-by-stop. You can also create full shipping routes in Route Matrix® and have drivers select the unassigned routes in Field Warrior®.
We also added a New indicator next to new stops, making it easier for drivers to notice when new stops are added to the queue.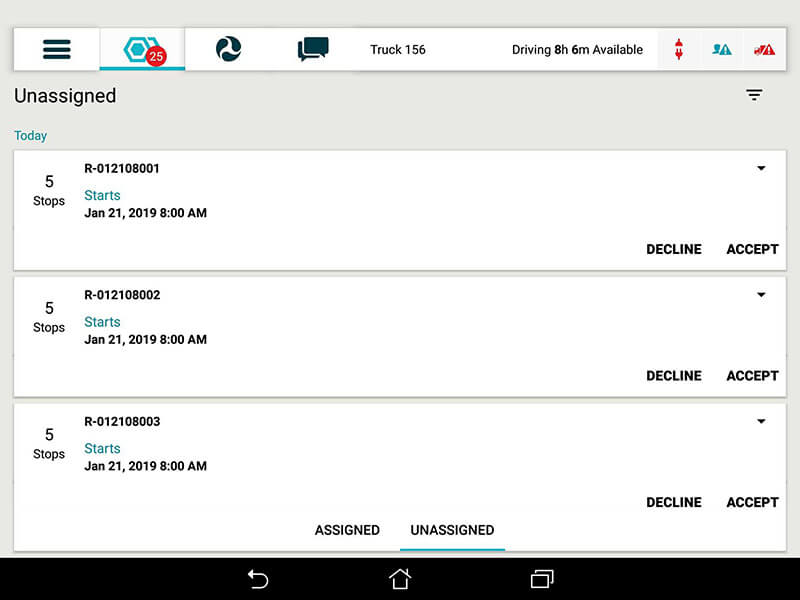 Enhanced Dispatch Screen
The new, cleaner dispatching screen makes it easier for your drivers to see details about each stop. And numerous backend improvements make the dispatching feature faster and more stable.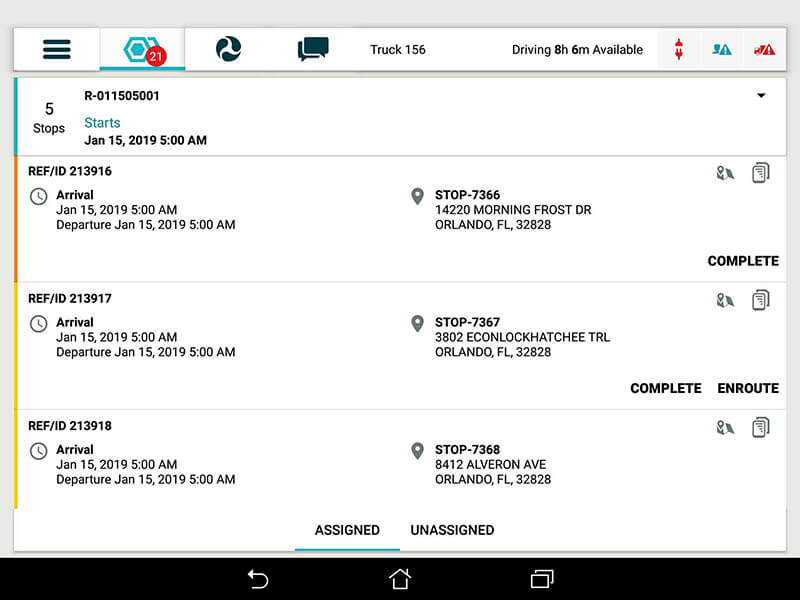 Manual Clock-in at Stops
Drivers can now manually clock in or out at stops. This can be helpful when a vehicle arrives at an assigned stop but the driver needs to wait for someone before starting their shift. Now, they can hold off on clocking in until they're ready, rather than being automatically clocked in after arriving at their destination.
We also added more ways to link to custom forms. For example, you can set up a form to automatically display after a driver clicks the button to stop or end a route.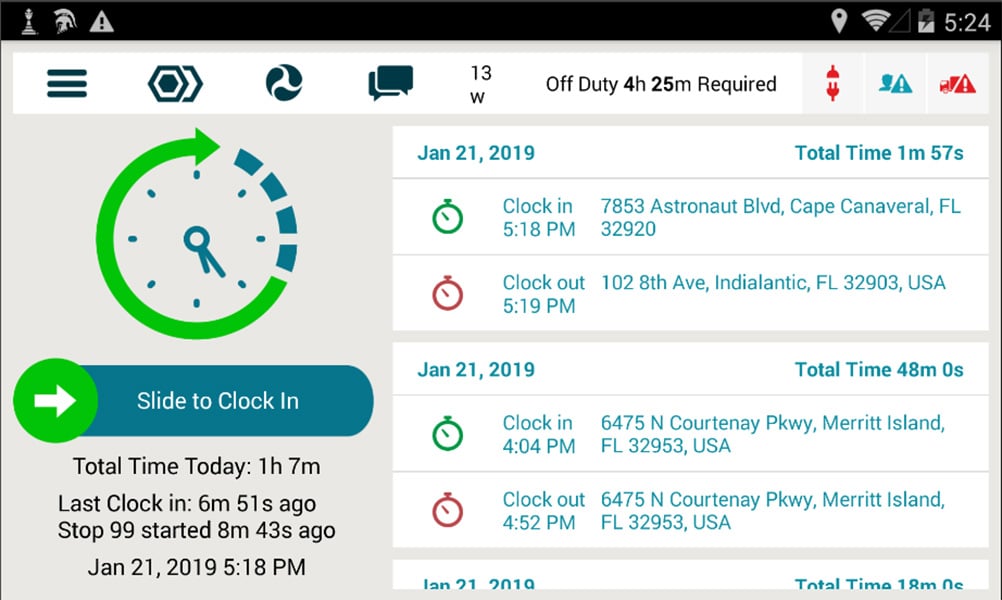 Pinch-to-Zoom Font Size in Messages
Drivers can now quickly increase the font size in messages by using the new pinch-to-zoom feature.

Voice Notifications for Violations
Drivers can now turn on voice notifications for violations. Once enabled, Field Warrior® will read pop-up notifications to the driver when they enter a violation, making it easier to know what's going on without looking away from the road. To enable, go into Settings and select Use Voice-Over on Violations.
We also added more detail and improved the readability of driver violation dialogues.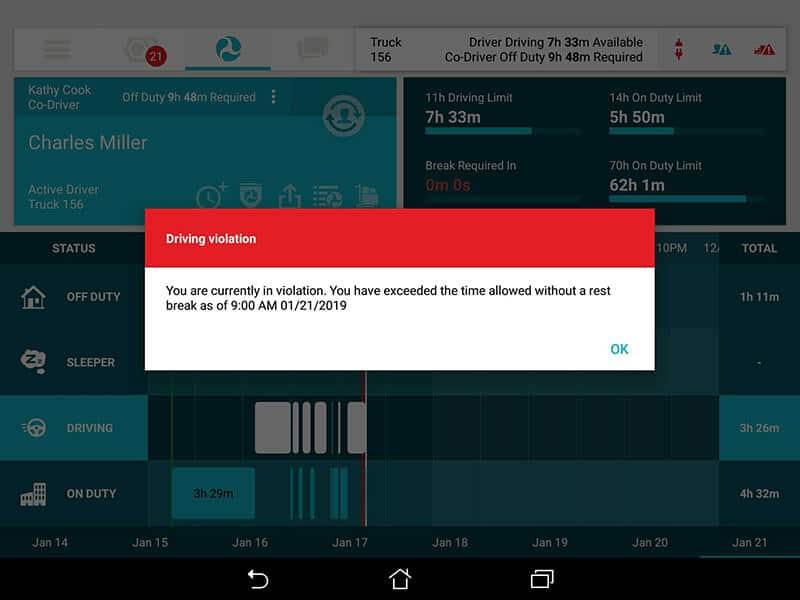 AOBRD or ELD Mode Indicator
Drivers can now easily see whether they're using Field Warrior® in AOBRD or ELD mode. This is especially helpful during roadside inspections, where inspectors tell us that drivers often don't know what kind of device they're using. To see the new AOBRD or ELD Mode indicator, simply click the FTS Menu drawer in the top left corner of Field Warrior®.

Confirm DVIR Issues in Field Warrior®
Drivers can now confirm DVIR maintenance has been completed, rather than needing a manager to mark the issue as resolved in IntelliHub®.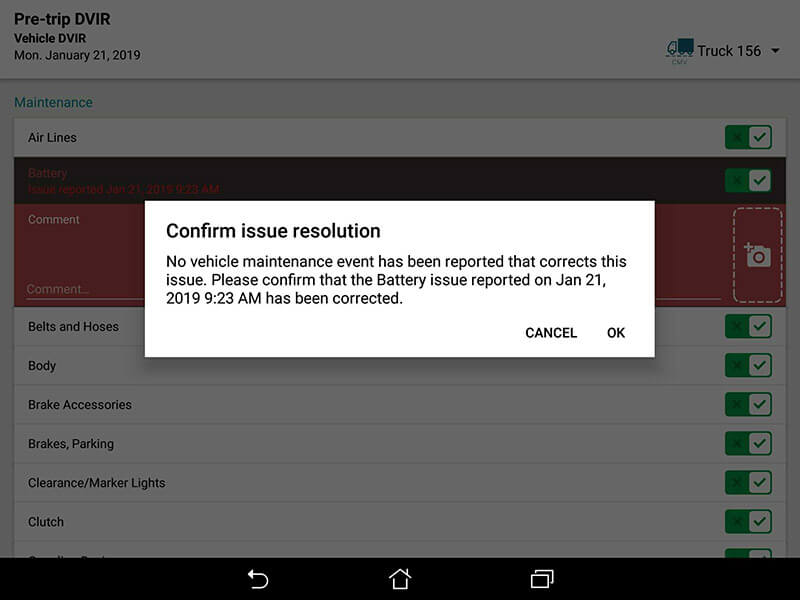 New Driver Prompts
You can now require drivers to complete missing shipment information that they may have skipped over or forgot to enter earlier in the day. If enabled, the driver will be shown a popup window with the shipment's missing fields before they are able to log out for the day. By default, this new feature is disabled, so please contact us if you'd like to enable it.
Field Warrior® will also now ask the driver if they would like to logout after they submit a post-trip DVIR.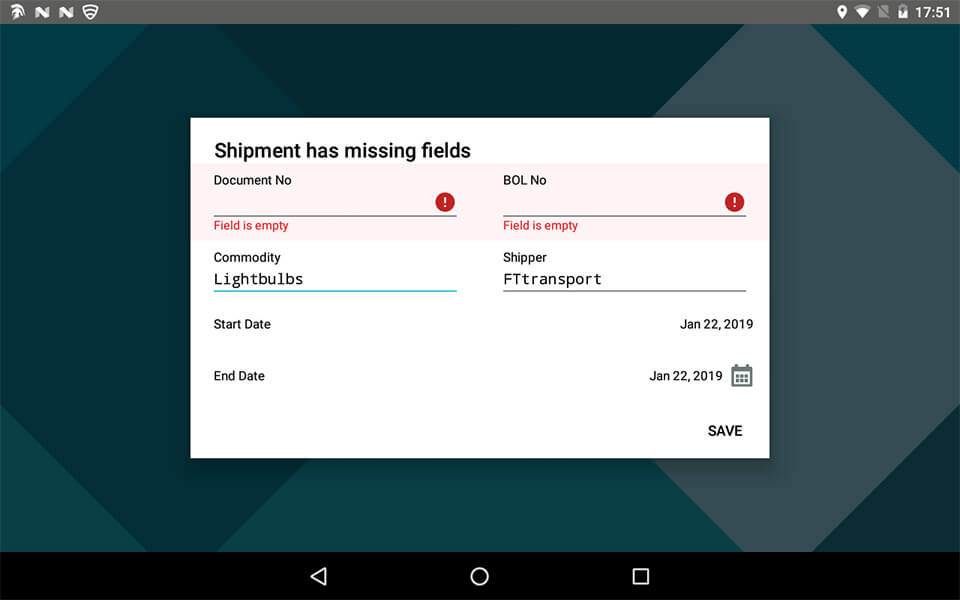 Canadian Ruleset Compatibility
Compatibility changes have been made to Field Warrior® for Canada, adding support for Canadian rulesets and logging.
Please note that Canadian rulesets and logging are a work in progress and improvements are still being made to this function. We will also be adding Canadian exceptions in an upcoming release of Field Warrior®.