Field Warrior® 4.0 is here! Rebuilt from the ground up, the revamped Field Warrior® is much faster, much more stable, and includes over 200 new features, improvements, and bug fixes. Check out some of the most exciting changes below.
Automatically Saved Digital Forms & DVIRs
Digital forms and DVIRs are now automatically saved as drafts so drivers won't lose their progress if they need to come back to it later for any reason – even if the device unexpectedly shuts down or resets. All saved drafts and previously submitted forms can be accessed via the new Forms History page in the main menu.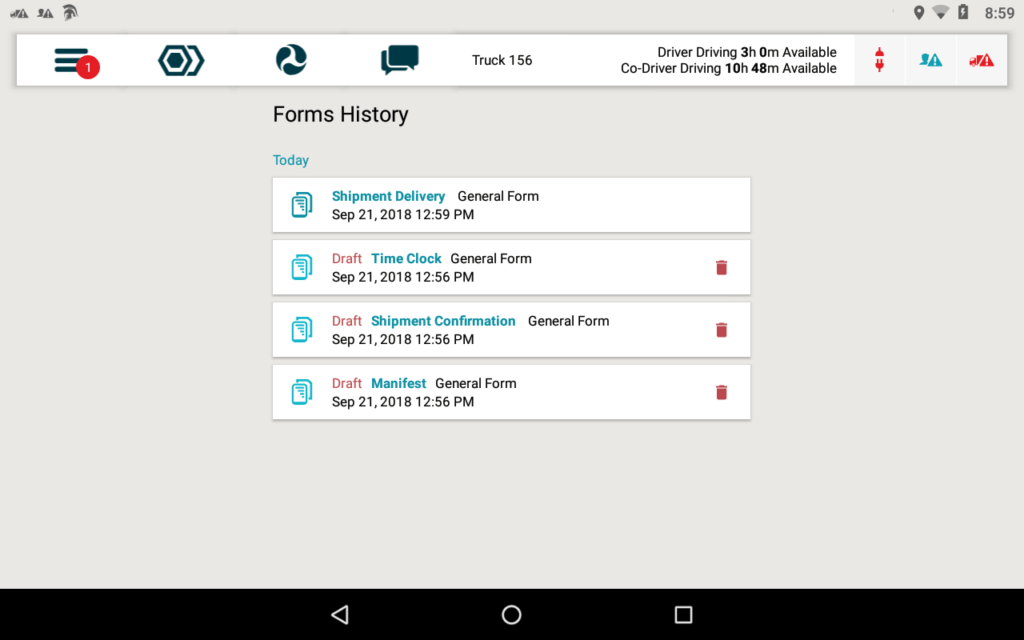 Attach Pictures of Receipts to Fuel Logs
With Field Warrior® 4.0, drivers can now snap a picture of fuel receipts and attach them to fuel logs.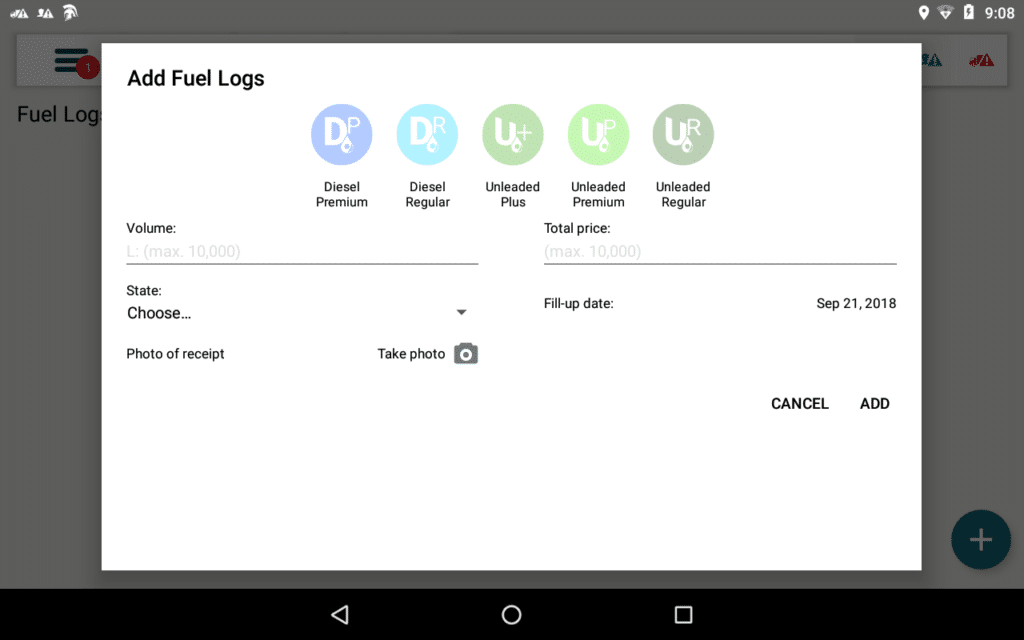 New HOS Recap and Status Screens
Field Warrior® 4.0 brings new Status and Recap screens that give drivers a helpful breakdown of hours and time remaining. Both screens are accessible by drivers and co-drivers regardless of whether they're On-Duty or Off-Duty.
Status
The Status screen displays a driver's remaining On-Duty and Driving hours, as well as how much time is left before the schedule resets.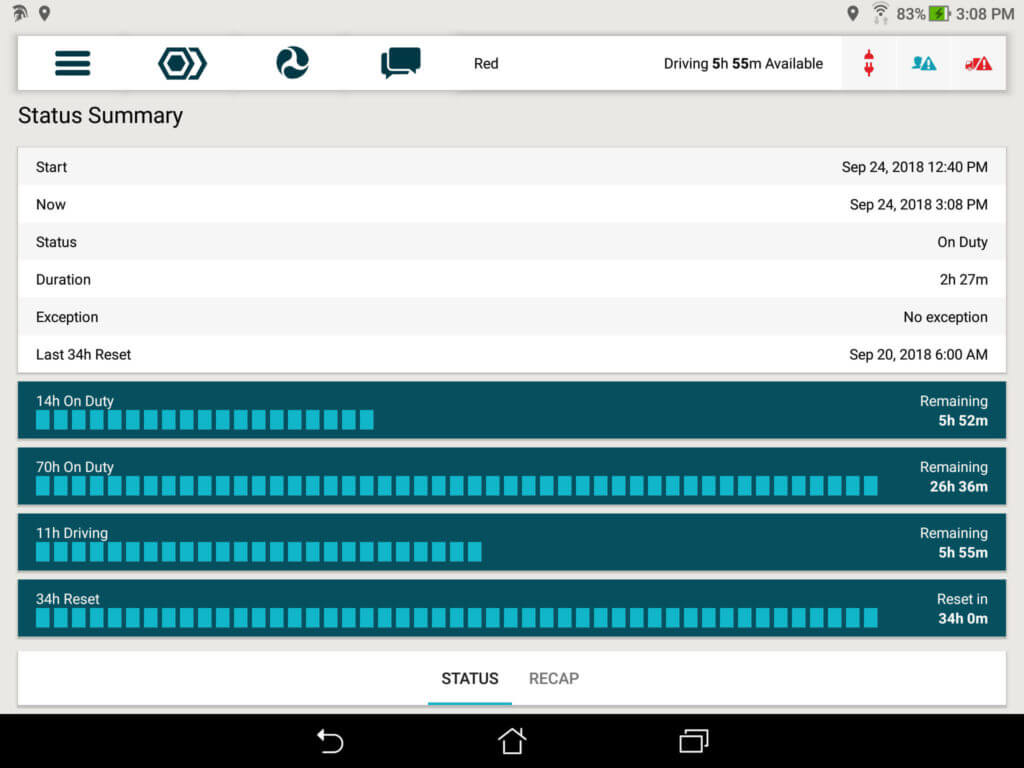 Recap
The Recap screen gives drivers a recap of the On-Duty hours they've used in the past 7/8 days – depending on their ruleset. The rows offer a daily breakdown of On-Duty hours used, and the blue bar at the bottom displays the remaining On-Duty hours for the week.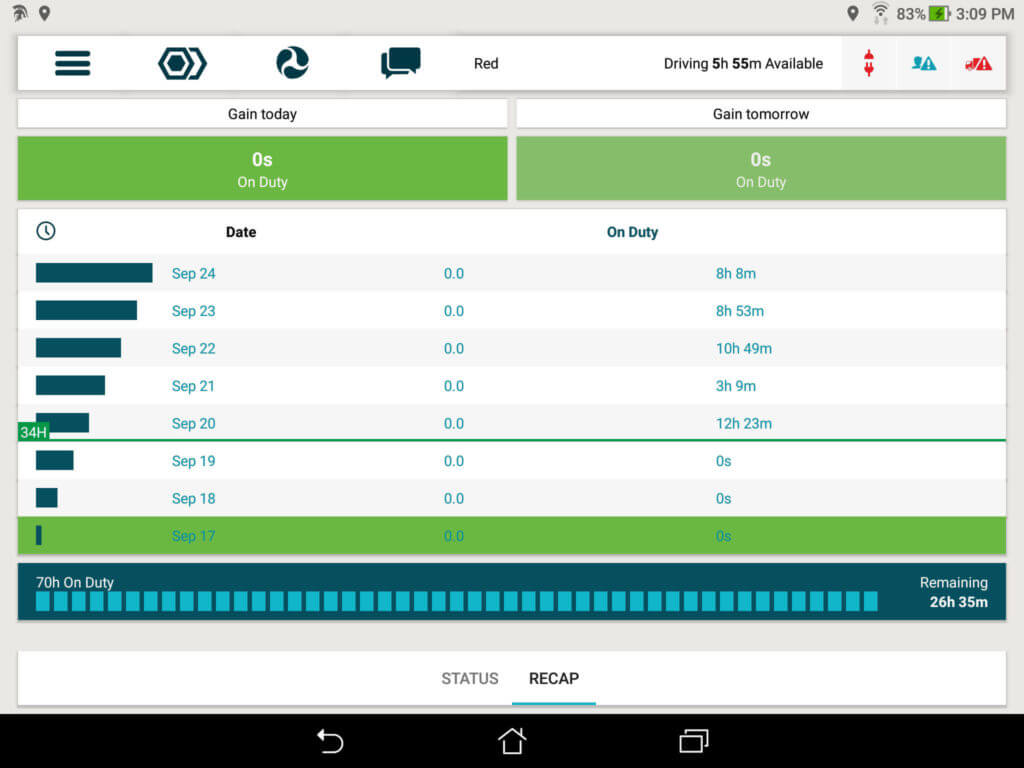 New Helpful Indicators on the HOS Graph
15-Minute Guidelines on HOS Graph
New 15-minute markers are displayed when zooming into the HOS graph, allowing drivers to see more detail between each hour.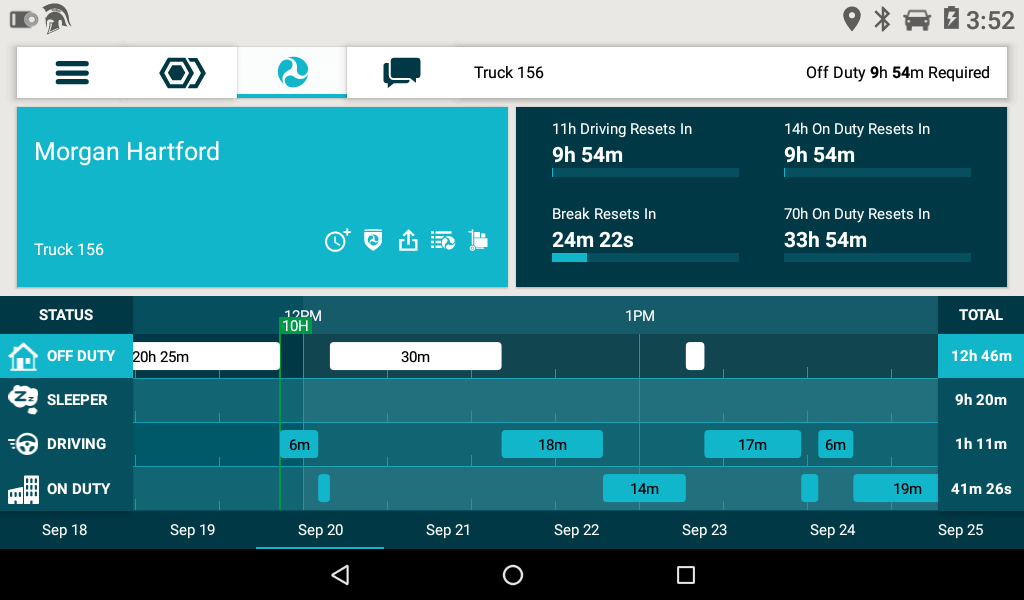 Split Sleeper Flags
New split sleeper flags are displayed in green above the HOS graph, making it easier to see when it's time to clock back in.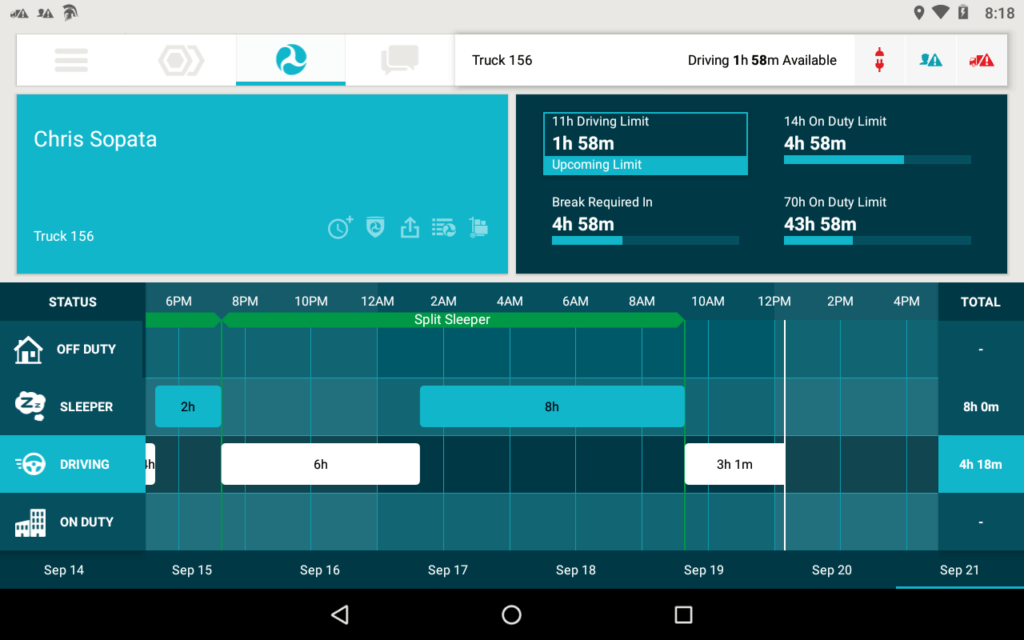 Reset Flags
Green flags are now displayed on the HOS graph to show when a driver's timing resets occur. And the flags are based on the appropriate ruleset for the driver.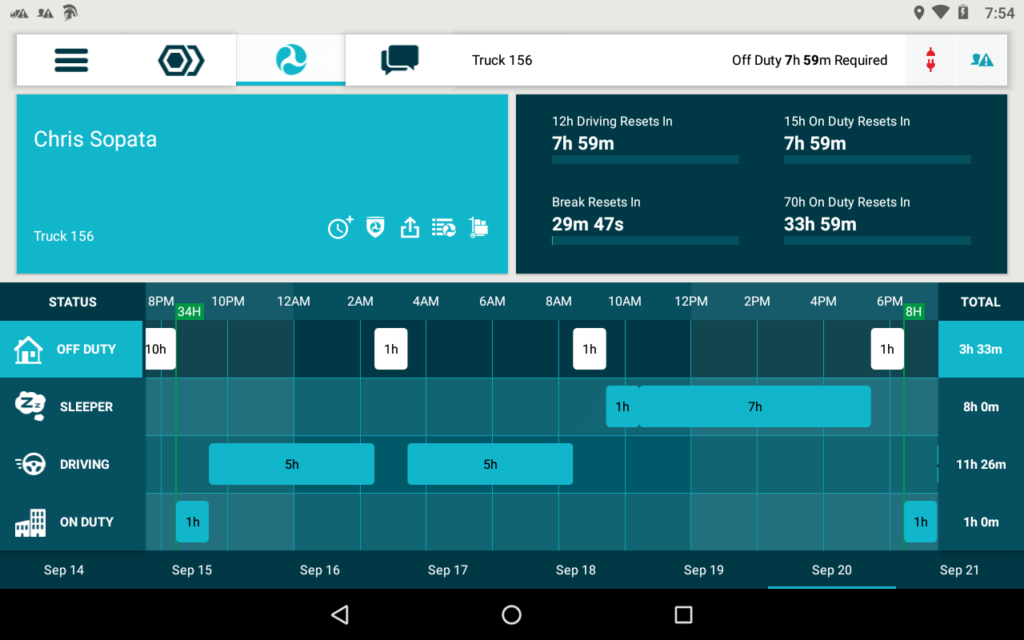 Exception Status
Yellow flags are displayed on the HOS graph, indicating the start and end of an exemption.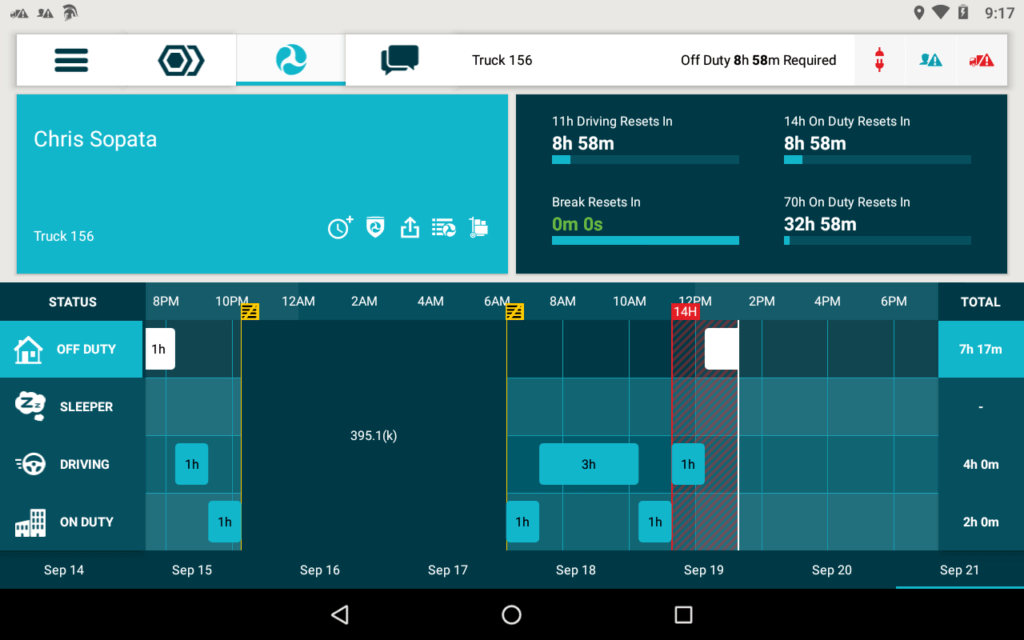 Bad Weather Indicator
Inclement weather exceptions are now displayed on the HOS graph with a rain cloud in a yellow flag.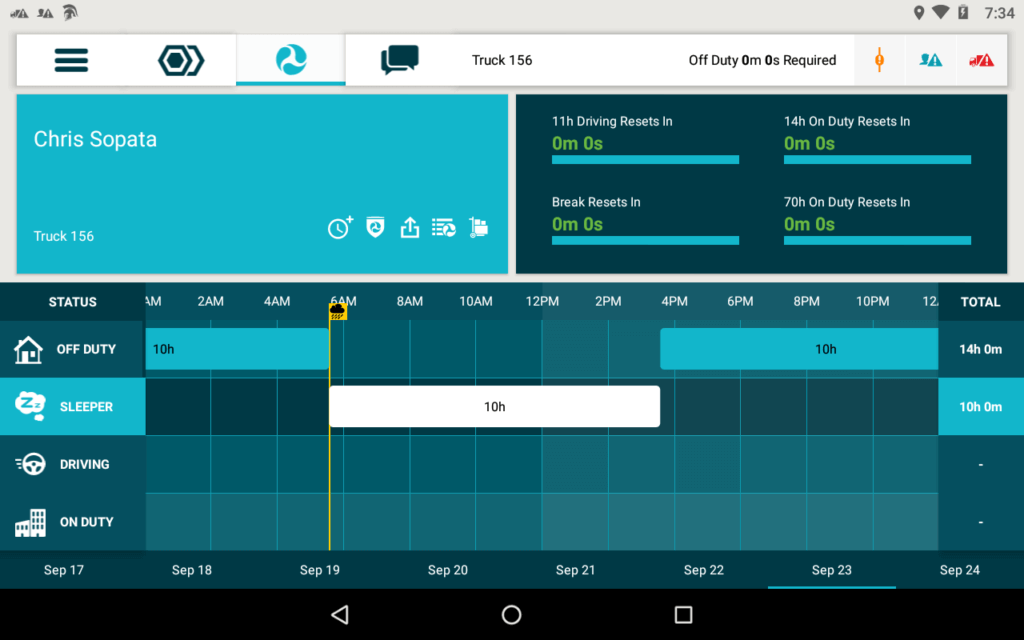 Short Haul Exception Indicator
A clock icon in a yellow flag is displayed on the HOS graph to indicate when a short haul exception begins. The driver will also receive an alert if they exceed the allowed time for a short haul exception.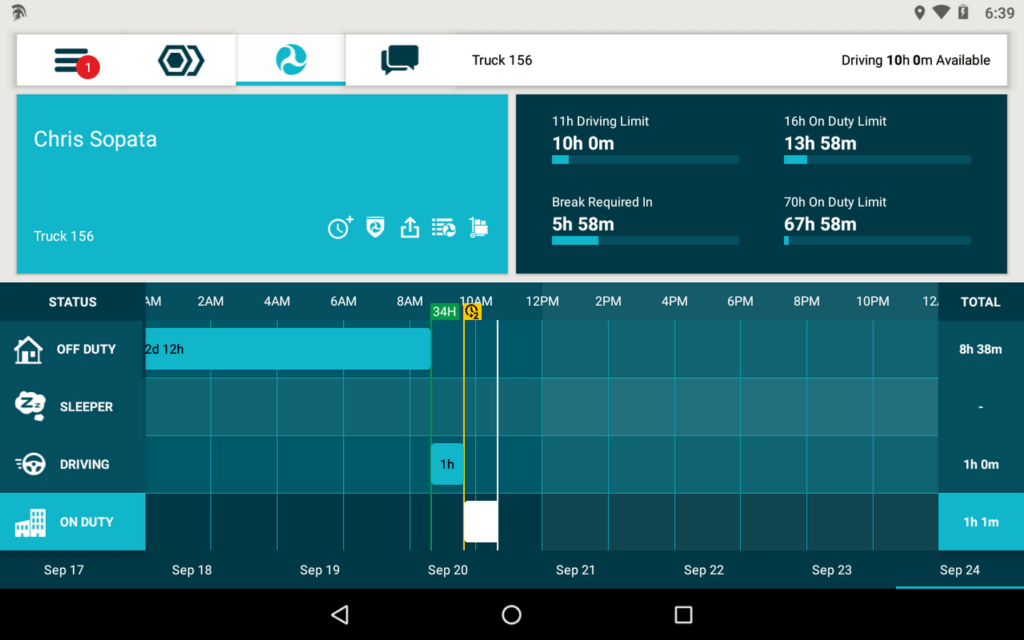 Improved Co-Driver Support
Field Warrior® now displays the co-driver's remaining hours on the main screen, making it easier for them to quickly see how many hours they have available for the day. We also added the co-driver's profile to the main menu and made the new Status and Recapture screens available to the co-driver while in presenter mode.
New Visual Indicator for Upcoming Limits
A simple but effective visual cue, Field Warrior® 4.0 makes it easier to see the nearest upcoming limit by highlighting it with a box.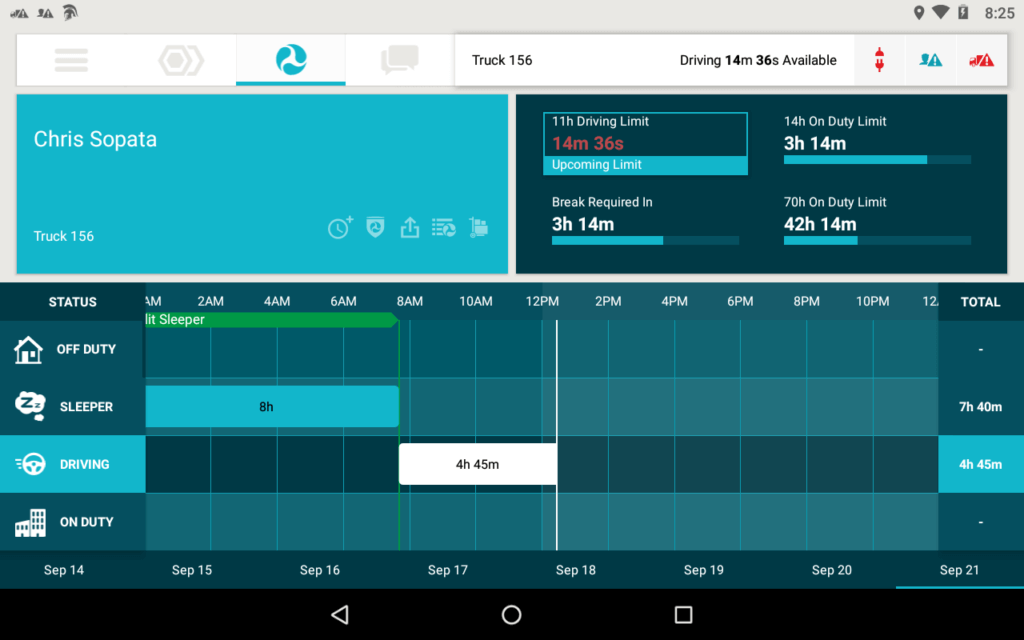 Improved Time Clock Display
The updated Time Clock screen now displays more information about recent shifts and replaces the "Tap to Clock in" with a new "Slide to Clock in" feature – reducing the chance of accidentally clocking in or out.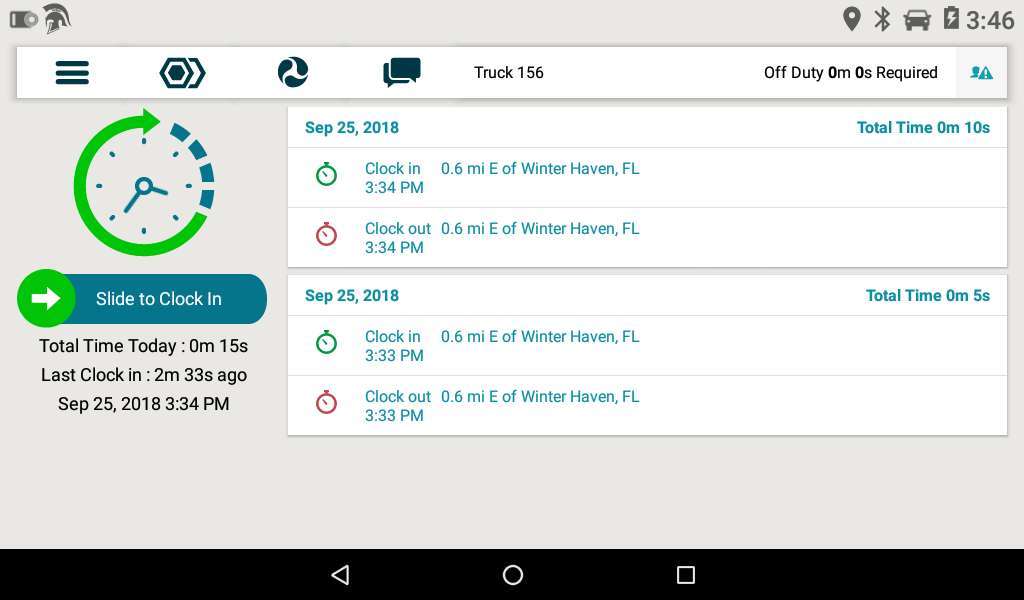 Improved Malfunction Detection and Alerts
Field Warrior® 4.0 does a better job of informing drivers about malfunctions, diagnostic events, and server disconnects. We also provide more information about events when they arise, ensuring drivers are informed and able to take appropriate action.
Connectivity: Displays when Field Warrior® is unable to connect to the server.
Diagnostic Indicator: Displays when there is an active diagnostic event.
Malfunction Indicator: Displays when there is an active malfunction.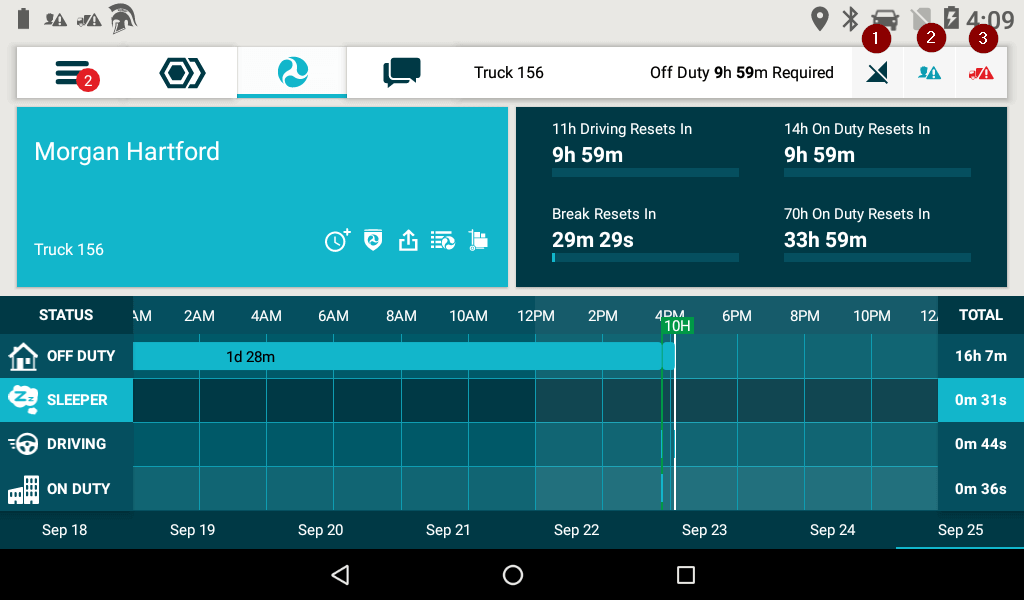 Indication When Logs Haven't Reached the Server
When a log hasn't been sent to the server yet due to loss of signal or any reason whatsoever, a small clock icon will appear next to it. This lets the driver (and potentially the roadside officer) know that while the log entry exists on the device, it hasn't yet been transferred to the server.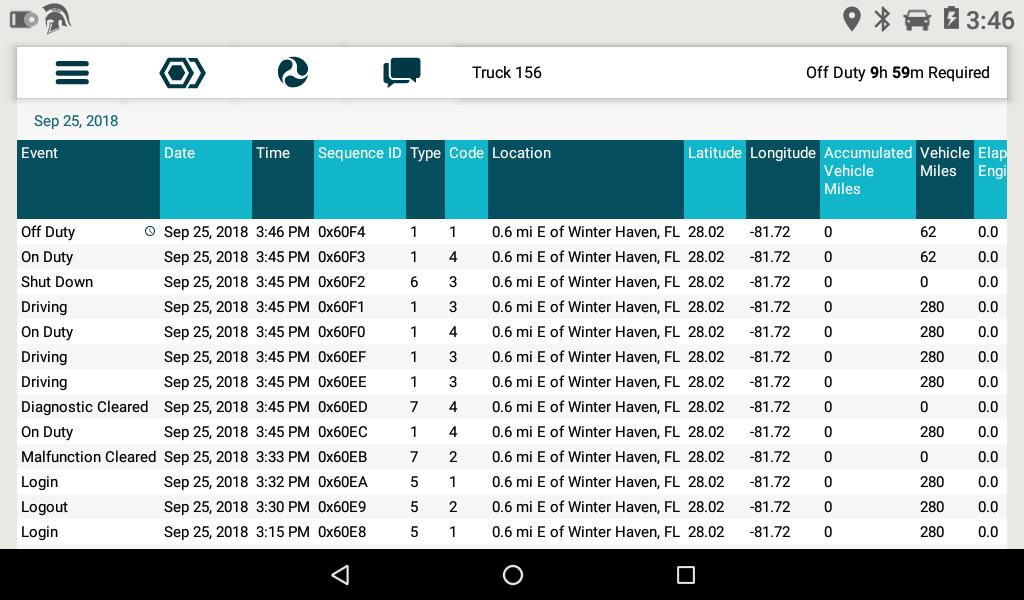 View and Manage Future Shipments
The Shipments page displays all of the shipments that are due today. In Field Warrior® 4.0, we added a section for Future Shipments, so drivers can now view and manage upcoming shipments too.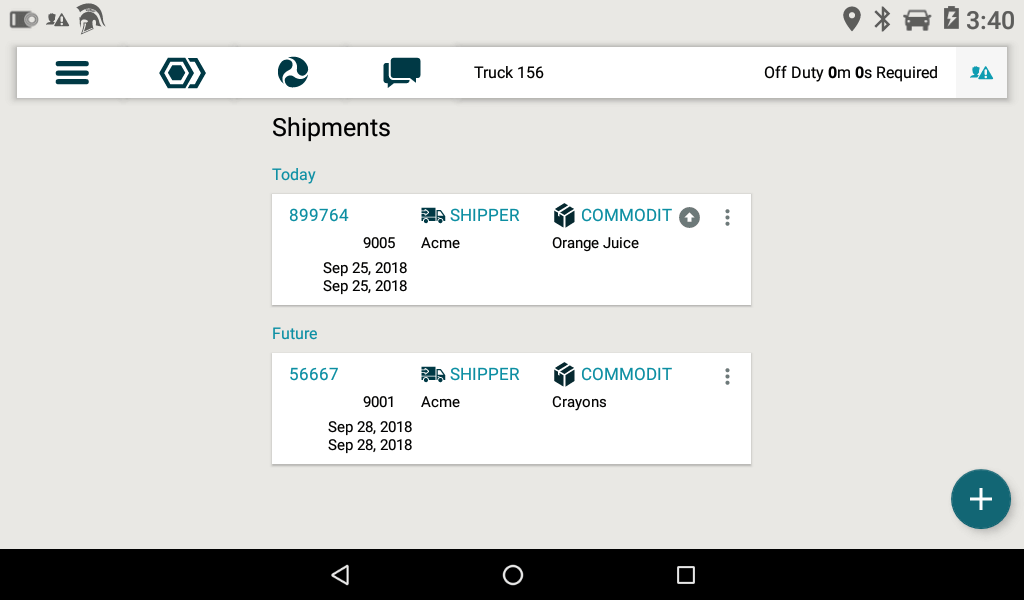 Better Prompt for Auto Duty Status Change
The auto duty status change alert now allows drivers to change to On-Duty status immediately if desired, instead of sitting there waiting for the timer to count down and automatically time out.