The all-new FleetCam® is here! Thanks to our vastly improved lineup of FleetCam® hardware, we've been able to make significant improvements to the software and overall experience – delivering the best in-vehicle video streaming solution on the market.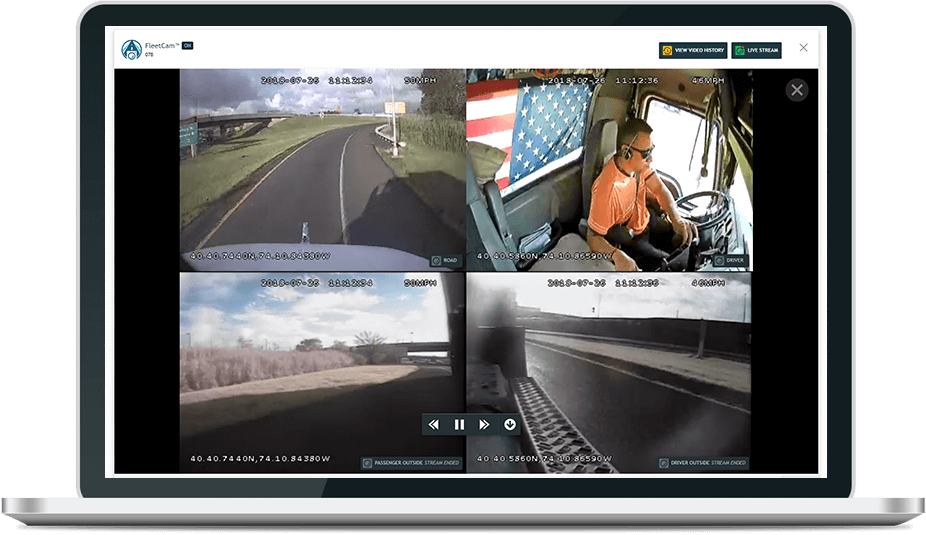 Historical Video Streaming
To access past recordings, most fleet vehicle streaming solutions require you to pull a hard drive or SD card. It's a cumbersome process that's just not practical for fleet managers.
With FleetCam® 2.0, you can stream and download historical videos from anywhere. It's as simple as picking the date and time frame. FleetCam® will even show you thumbnails of the video you're about to stream, so you can decide whether or not it's what you're looking for before the video starts streaming.
Video Downloads
In addition to streaming video, you also have the choice to download the video clips to your computer – from anywhere.
As with historical video streaming, there's no need to bring the vehicle in and physically remove the hard drive or SD card. It's as simple as clicking a button in IntelliHub®. But if the need ever arises, you can still easily pull all of the video directly from the SD card with our custom app for desktops.
Better Live-Streaming
Live-streaming video also gets a major upgrade, with improved reliability and smoother frame rates. You can even stream up to 4 cameras on a vehicle at the same time.
More Camera Angles
FleetCam® now supports up to 4 video feeds so you can see more than ever before. The typical setup includes a dome cam facing the driver, a road cam facing the road ahead, and 2 side cams facing the left and right sides of the vehicle. But you're not limited to this setup if your needs are different than the typical fleet. You might choose to point the dome cam at passengers, or point a side cam at the back door of a box truck. It's up to you!
Mobile DVR
The mobile digital video recorder is the backbone of every FleetCam® installation. The MDVR is powerful enough to stream and record up to 4 channels of video at once. Its rugged metal design and anti-tamper lock help keep your recordings safe and secure. And advanced video compression allows for storage of over 130 hours of HD video on the main hard drive with the most recent footage backed up onto an SD card.
Improved Cameras
FleetCam® 2.0 Dome Cam – Our dome camera is installed inside the vehicle. It's ideal for recording drivers, passengers, packages, or anything else you'd want to keep an eye on inside the vehicle (of course). It's equipped with anti-vibration features that help keep the picture smooth and clear; infrared sensors that allow it to see what's happening in total darkness; and audio is available if you also want to hear what's happening.
FleetCam® 2.0 Road Facing Cam – Our new windshield-mounted road camera is compact, lightweight, and rugged. It gives you a crystal clear view of the road ahead with excellent color reproduction thanks to automatically controlled shutter speed, white balance, contrast, brightness, saturation, and more.
FleetCam® 2.0 Side Cameras – These compact, rugged cameras are mounted to the outside of the vehicle, giving you a clear view of what's happening on both sides at all time. They're IP67 rated, which means they're dust-tight and waterproof – built to withstand the harshest weather. And they're also equipped with infrared lights for night vision up to 50 feet.