Today, we're proud to introduce FleetCam® 3.0 – the all-in-one fleet camera system that helps improve safety and driving habits with in-cab alerts, AI-detected events, and an integrated driver behavior coaching system.
What's New in FleetCam® 3.0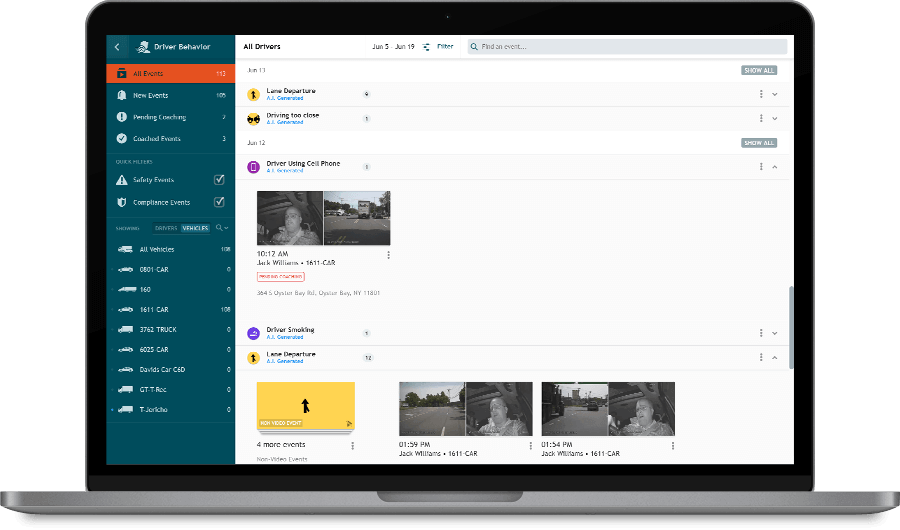 FleetCam® Dashboard
The all-new FleetCam® dashboard gives you a fleet-wide view of all driver behavior and vehicle events. Events are immediately uploaded from the vehicle to your dashboard and are available for viewing within minutes of the incident. The dashboard neatly groups events by type and date, with intuitive options to filter and search for specific events. And you can easily switch between Driver view (to see all events generated by a driver, regardless of the vehicle) and Vehicle view (to see all events generated in a vehicle, regardless of the driver).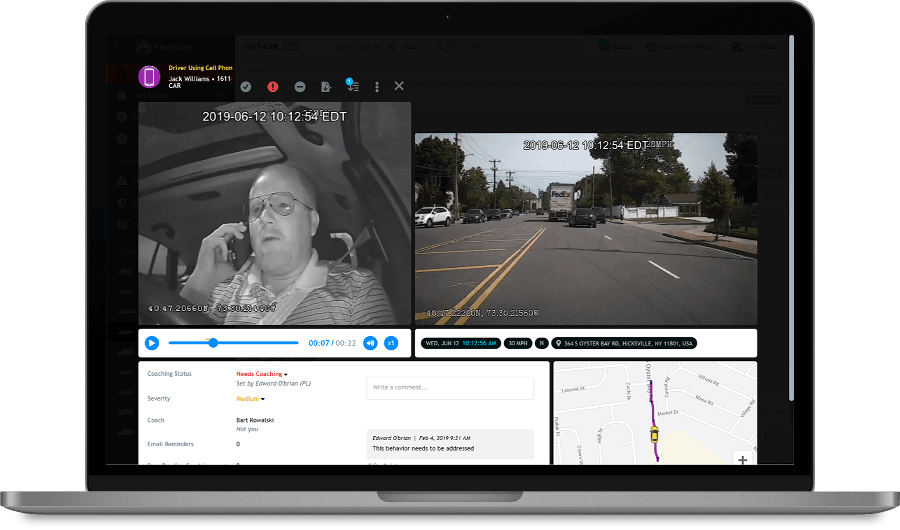 Driver Coaching System
The new FleetCam® Driver Coaching System helps you improve the safety of your fleet by giving you insight into reoccurring problems so you can fix patterns over time. Designate IntelliHub® users as Driver Behavior Coaches and assign them to specific drivers or facilities. Review footage of events on the new event playback screen with the time, speed, direction, and address updating for every second of the video. Set the coaching status of events, assign severity, and add comments. Remotely download HD footage to your computer. And use your dashboard's filtering options to easily find events that need coaching (or were already coached) for any driver or vehicle.
AI-Detected Events & Real-Time In-Cab Alerts
FleetCam® now uses AI and sensors to detect unsafe driver behavior. The DMS (driver monitoring system) continuously monitors the driver, while the ADAS (advanced driver assistance system) continuously monitors the road ahead. And with real-time in-cab alerts, FleetCam® can wake up drivers who are falling asleep, help drivers stay alert and off their cell phone, and even help you enforce no-smoking policies.
AI-detected event types include:
Driver Distracted
Driver Falling Asleep
Driver Smoking
Driver User Cell Phone
Driving too Close
Risking Collision
Unsafe Lane Departure
Improved User Experience
FleetCam® is more tightly integrated with IntelliHub®, making it easier to access streams and event footage without disrupting your workflow. Snapshot photos are captured every 5 minutes and displayed along the vehicle's route (breadcrumb trail), giving you an extra level insight into the vehicle's activity. Event markers on the breadcrumb trail show you where events happened and provide quick access to jump right to the footage. And when you're done viewing footage, you're taken right back to where you were in IntelliHub® – making the FleetCam® experience seamless.
FleetCam® 3.0 Supported Hardware
The latest FleetCam® features may not work with some older equipment. Read on to find out if your hardware is compatible.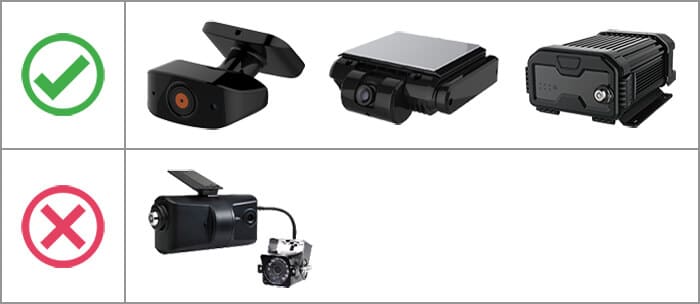 Customers with FleetCam® 2.0 Cameras
All FleetCam® 2.0 hardware is compatible with the latest FleetCam® features. If you're a customer with FleetCam® 2.0 hardware, you'll have access to the new FleetCam® Dashboard and Driver Coaching System when it goes live on Wednesday, July 10th – no action required.
AI-detected events and in-cab alerts require FleetCam® AI cameras and an in-cab device. Get in touch with us to learn more about our new AI cameras and one of the most effective vehicle collision prevention systems on the market.
Customers with SmartWitness Cameras
Due to hardware limitations, SmartWitness cameras are not compatible with FleetCam® 3.0. If you're a current customer with SmartWitness equipment, get in touch with us today to learn about exclusive, limited time discounts on upgrades to compatible hardware.
Customers without Cameras
If you don't have FleetCam®, what are you waiting for? FleetCam® helps keep your drivers safe on the road, and your company safe from damaging fines and litigation. Give us a call today at 866-221-1864 or request a demo to learn more about the best fleet camera system on the market.