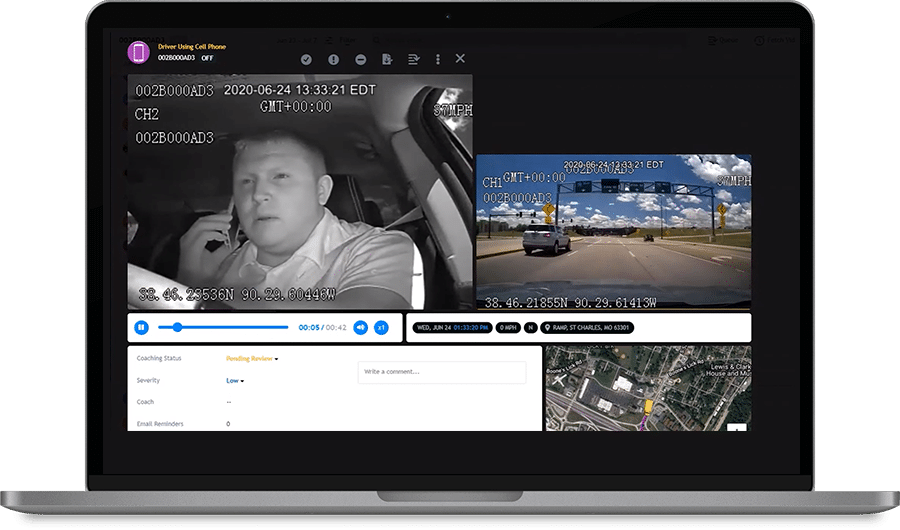 FleetCam® brings the best available AI to AI to the fleet camera industry.
According to a judge for the American Business Awards, FleetCam and its ability to "provide reliable and accurate information regarding the driving environment of trucks is an outstanding advancement in technology regarding safety and protecting company assets."
One judge noted that "alerting and providing instructions to the driver is essential, and it saves not only the driver's life but also other lives."
Another judge called FleetCam "a fantastic solution with real world applications" and noted that it provides "tangible benefits that consumers see on purchasing this piece of technology."
It was for these reasons and more that FleetCam AI won a Bronze Stevie Award in the 18th Annual American Business Awards in the Artificial Intelligence/Machine Learning Solution category.
What are the American Business Awards?
The American Business Awards are the United States' premier business awards program. All organizations operating in the United States are eligible to submit nominations – public and private, for-profit and non-profit, large and small.
More than 3,600 nominations from organizations of all sizes and in virtually every industry were submitted this year for consideration in a wide range of categories, including Startup of the Year, Executive of the Year, Best New Product or Service of the Year, Marketing Campaign of the Year, Live Event of the Year, and App of the Year, among others.
What is FleetCam AI?
FleetCam AI is an all-in-one fleet vehicle camera system that can help save lives with AI cameras, audible in-cab notifications and an integrated driver behavior coaching system. FleetCam supports up to eight cameras per vehicle, including best-in-class AI cameras; providing transparency and helping to improve driving habits while alerting drivers to dangers before a crash.
Immediate in-cab feedback is made possible by the fact that FleetCam AI is processed in the vehicle, providing audio alerts the moment an issue is detected. Other fleet camera solutions with AI are processed on a server in the cloud and are thus not able to provide real-time, lifesaving alerts directly to the driver.
FleetCam detects:
Distracted driving
Driver fatigue
Cell phone use
Smoking
Driving too closely
Unsafe cornering speeds
Risking collision
Unsafe lane departure
Speeding
Harsh braking & acceleration
FleetCam can also trigger event recordings based on digital inputs, like when a tow truck hitch is engaged or when an ambulance's sirens are turned on.
All video event clips are uploaded to a user-friendly web server, where managers can view, download and comment on them. The integrated coaching system allows them to set priority levels and leave instructions; ensuring that drivers are getting the coaching they need.
What earned the AI Fleet Camera system FleetCam a Bronze Stevie Award?
More than 230 professionals worldwide participated in the judging process to select this year's Stevie Award winners and awarded FleetCam with this prestigious honor.
Overall, judges were impressed with the solution's ability to dramatically improve fleet safety with real-time in-cab alerts, help companies immediately assess liability, and help managers coach drivers.
Nicknamed the Stevies for the Greek word meaning "crowned," the awards will be virtually presented to winners during a live event on Wednesday, August 5, 2020.
FleetCam has also been shortlisted for the TU Automotive Awards' Fleet Product of the Year category. The winner of that award will be announced on August 18, 2020 during a virtual award ceremony.
One judge who reviewed FleetCam considered it a "good tool in capturing, providing support documentation, and learning experiences with the help of AI technology in motor vehicles."
"Features like the in-cab notifications, an integrated driver behavior coaching system and multiple cameras for getting a 360° degree view are all great," according to another judge.
A judge also noted that "with a primary emphasis on emerging technologies, Forward Thinking Systems has a significant market opportunity."
"Despite the toughest business conditions in memory, American organizations continue to demonstrate their commitment to innovation, creativity, and bottom-line results," said Stevie Awards president Maggie Gallagher.  "This year's Stevie-winning nominations are full of inspiring stories of persistence, ingenuity, resourcefulness, and compassion."
FleetCam is the best AI Fleet Camera system on the market
"I am tremendously proud of our team and what we accomplished with the creation of FleetCam," said David Isler, CEO of Forward Thinking Systems. "We began the process of developing this advanced AI solution knowing that this technology would save lives. We are honored and thrilled to be recognized by the American Business Awards. It is a true testament to the dedication the team showed when developing FleetCam's unique system."
If you're interested in investing in your own award-winning, life-saving fleet camera equipment, contact us to set up a free demonstration.