If you think you can build the most time-efficient and cost-effective routes manually, think again. Okay, maybe you can for one route. Or even five routes. But what if you have ten routes or thousands of stops, how do you keep up with that? Your business has hundreds, maybe thousands of clients to visit and destinations to reach, making it nearly impossible for fleet managers to optimize the perfect route each time. When routes are inefficient, you risk losing customers and shrinking profit margins, both having a consequential impact on your bottom line.
Let's discuss what route optimization is and how your business can significantly benefit from Route Matrix®.
What is Route Optimization?
Route optimization is the process of determining an efficient route for drivers and field technicians. This route planning technique uses artificial intelligence to optimize time and fuel while maximizing completed orders and deliveries. It can also factor in numerous variables such as vehicle type, outfitted gear, unique needs of each stop, driver or technician skills, and more.
Since it isn't always about the fastest route between locations, fleet routing software incorporates all of these and other considerations when planning the most effective course. These systems consider driver availability, delivery window times, number of stops, traffic congestion, amount of intersections or turns, and more. If taking the highway means extra mileage, optimization software will compensate for that by rerouting the driver to a less congested path.
Say Goodbye to Manual Route Planning
Manually searching for the best routes is tedious and impractical work. Think about it this way- with even a small number of fleet vehicles, with say, ten stops each, there can be millions of different route possibilities. With Route Matrix®, efficient routes can be calculated within seconds, saving you hours of planning. Our fleet routing software makes route building and optimization easy with a clean, simple, and intuitive interface. Below are some critical components of this user-friendly system.
Visual Route Building
With Route Matrix®, you can visualize your route on an interactive map that shows you the path a selected route takes as well as the unassigned stops that are not yet on your route. This feature allows you to take a closer look at a vehicle's route to see if there should be any other stops added to it. If you realize a stop must be added after examining the map, simply drag and drop it onto the route. Seems easy enough, right? Just wait, it gets better! Convenient filters allow you to show only the most relevant unassigned stops, such as stops that are no more than 10 miles from a specific location or stops with the word "tire" in their name. You can change the filter to fit what you are looking for.
Automatic Stops Optimization
Our fleet routing software helps you get back more hours in your day by improving the efficiency of your business operations. By analyzing travel time, distance, service, and other factors, Route Matrix® automatically sorts stops into a highly optimized order, saving you all of that planning time because, let's face it, as humans we do not have enough mental bandwidth to accurately factor in all of the variables that make the most effective routes. Our routing software's efficient optimizations will help you waste less fuel, money, and work hours.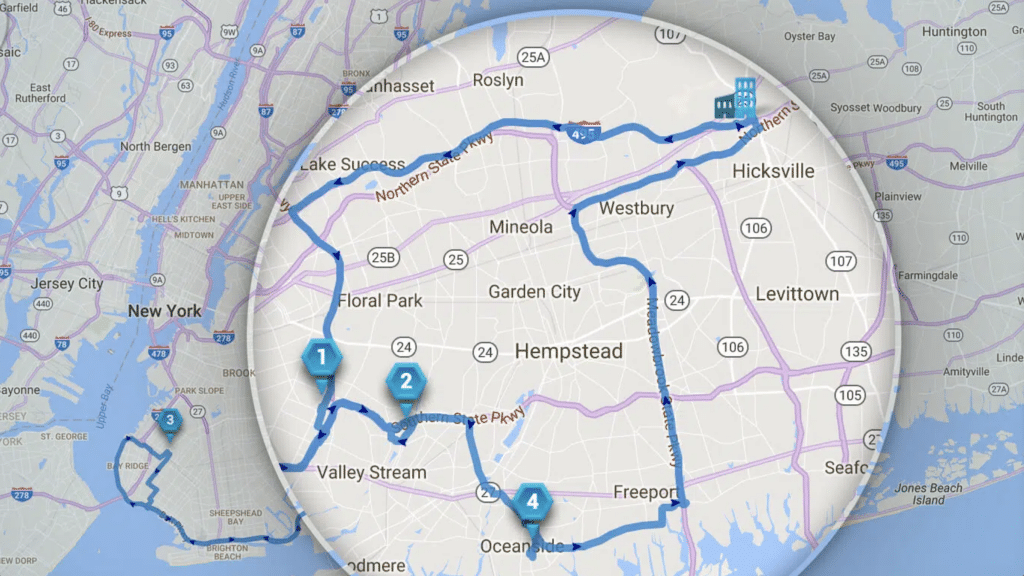 Accurate ETA's for Stops
With an accurate estimate of arrival time, you can ensure that your customers receive their product or service in a timely manner. While you build out routes, Route Matrix® automatically estimates arrival times for each stop so that you can see approximately when drivers will arrive at their destinations before they even begin driving. The total distance and travel time are also automatically recalculated if you add or take away any stops. That way, you immediately know how that action has affected the route and ETA. Customers will gain satisfaction and loyalty to your company when their deliveries get to them fast, and more specifically, on time.
Customize and Override
Sometimes the most efficient path cannot be the only one taken into consideration. You may find yourself in a situation where you want to override the "correct" order of the route due to truck unloading requirements or even customer preferences. With our system, this can be done easily. Change any given optimized route by dragging stops into the order that works best for any given circumstance. With Route Matrix®, you have the ability to be in complete control or let the system do all of the route building work for you.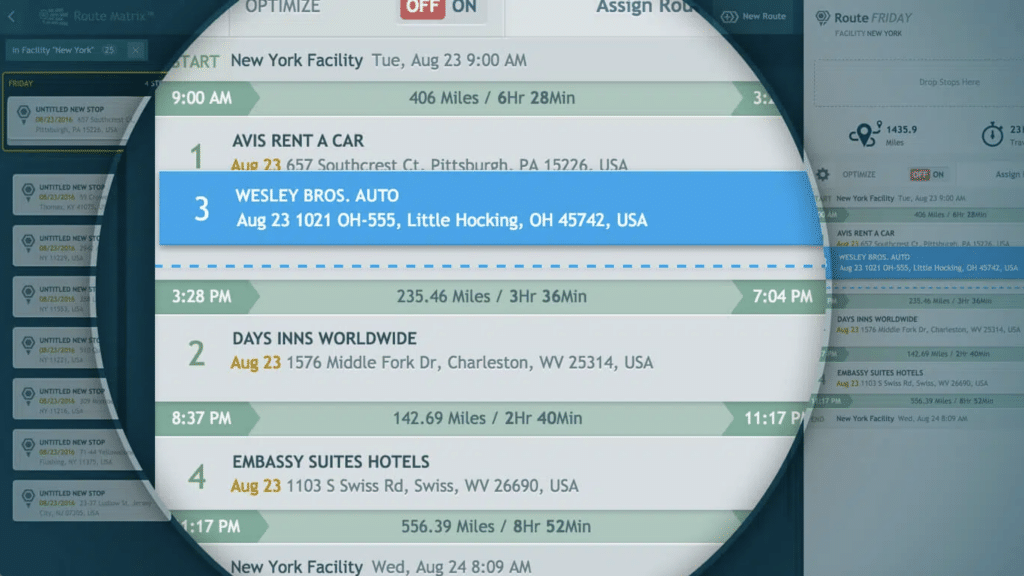 One Easy-To-Use System
Route Matrix® is accessible through our browser-based command center, IntelliHub®, where managers can view every bit of driver activity while building out routes. Route Matrix® also works in conjunction with Field Warrior®, our mobile workforce management app, allowing drivers to be connected with dispatchers directly so that they receive all updated stops along with any other changes to their route. This app limits any confusion between drivers and dispatchers with the help of turn-by-turn GPS navigation, making for faster, more efficient deliveries.
Route Optimization Across Industries
Several different industries benefit from route planning software, so now let's explore the role that route optimization can play for your business in particular.
Logistics: Route planning software resolves many challenges that the transportation industry faces. Optimization benefits the logistics industry by creating more affordable delivery options, building the fastest and most efficient routes, enhancing customer experience, improving return on investment, and more.
Food Delivery: Grow your business while delivering more for less. With efficient route optimizations, you can increase your order capacity without needing to add more drivers. This software can also help you reduce the amount you spend on fuel while keeping delivery routes fast and effective so that food gets delivered while it's hot- keeping customers happy. If climate control is important to you, be sure to ask us about our IoT Tracking Sensors.
Waste Management: Optimization software helps waste collection businesses easily plan offloading stops, avoid congested areas and other inefficiencies like U-turns, and, most importantly, reduce fleet emissions. With more efficient routes, fewer miles are traveled, which means reduced fuel consumption and overall emissions. Route planning software lowers Waste Management's environmental impact while increasing its service quality by decreasing the number of missed stops for residential and commercial customers.
Service Providers: Whether you are providing landscaping, maintenance, or installation services, route optimization will help increase your cash flow. Route planning software will get technicians out the door fast and to their destination in less time. This means that jobs can be finished in half the time, leaving extra time in the day for more jobs to be done, increasing your profit.
Wondering if your business can reap the benefits of route optimization software?