Monitoring the safety of any fleet can be a difficult task. An implemented Fleet Management System provides you with multiple features that make managing the security of your fleet simpler. 
1. Review Driver Activity That Matters
With large fleets, you want to have eyes on your drivers and your vehicles at all times. This can be extremely challenging when you are busy with countless tasks and have a business to run. With IntelliHub®, it is simple to set up alerts and notifications based on driver behavior, when a vehicle is arriving or leaving a VIP customer, or when a driver is stopping at home when they should be getting to the next job. Receive alerts as emails or text messages and act on them in real-time or follow up with the driver at your next meeting. IntelliHub® gives you the ability to see every bit of driver activity right at your fingertips. 

IntelliHub® will provide you with a snapshot of your drivers' daily activity using a movement graph, highlighting any speeding violations so that you can better assess whether your driver was driving recklessly. You can view where the vehicle was, exactly how fast they were going, what direction they were heading in, and more. Also, set custom speeding alerts and receive a notification each time a driver is driving over the limit so that you are aware of any instant violations. 
This browser-based command center will show you where all of your equipment is located on a map, how long it has been running, or if it has even been in use at all. This feature helps to prevent theft and liability, allowing you to see each move a vehicle makes. With geofencing, receive notifications if a vehicle goes beyond an assigned area on the map. If you see something that looks like it will jeopardize your drivers or your business, simply alert that driver by sending them a message through IntelliHub®. 
2. Provide Instant In-Cab Driver Coaching
Audiovisual in-cab alerts can prevent accidents and save drivers' lives. With a fleet dash camera and AI, FleetCam® driver monitoring system tracks the driver's eye movement and behavior, alerting the driver when it sees something potentially unsafe. In-cab audiovisual alerts warn drivers when they are following too closely behind another vehicle, when they cross over lanes, when they brake too harshly, and when drivers are falling asleep, texting while driving, smoking in the cab, and more.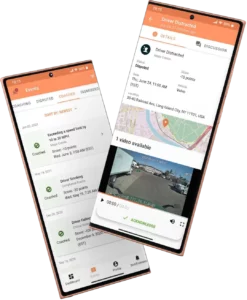 FleetCam® offers an integrated driver coaching system that gives you insight into recurring problems that your drivers are having on the road so that you can fix patterns over time. When an unsafe driving event is detected, video from the event is uploaded to your dashboard within minutes so that you can review and coach it. A driver monitoring system provides you with total awareness of what's happening in and around your vehicles so that you can inform your drivers about where they need to improve and let them know where they are excelling.
3. Prioritize Maintenance 
Regular maintenance improves your fleet's performance and safety, so make sure that your vehicles receive the attention they need. With our fleet maintenance tracking software, you will get texts or emails whenever one of your vehicles has an issue or is simply due for maintenance. Know when a vehicle's tire pressure is low, when brakes or signal lights are not working properly, when tires need a rotation, and more. Maintenance tracking will keep your drivers safer on the road by ensuring that their vehicles are running smoothly.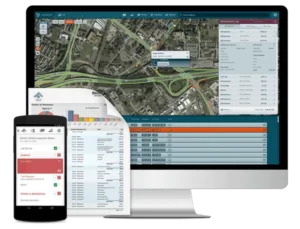 Why Should You Implement A Fleet Management System?
Fleet Management Systems contribute to the efficiency and safety of fleets. Not only do these solutions monitor unsafe driving behavior, but they can also help you build effective routes by optimizing your stops in the most efficient way, reducing your drivers' time on the road. Fleet monitoring can also help recover stolen or missing assets. The faster a vehicle is tracked down, the more likely it is that the driver is safe and the vehicle did not sustain damage. 
Have peace of mind knowing that your fleet is moving safer thanks to implemented fleet technology. Take those few extra steps to safety and contact us about our solutions.