The FMCSA has released new data on crash rates for 2019, and it shows that three deadliest states had, by far, the highest number of people killed in large truck and bus crashes. In fact, nearly a third of everyone who died in these types of crashes were killed in one of these states.
A total of 2,734 fatal crashes involving trucks and buses were reported in the United States in 2019. 3,087 people died in those crashes according to the preliminary report released in January 2020. Another 60,818 people were hurt in crashes involving large trucks and buses. A total of 122,331 vehicles were damaged or wrecked.
The top three deadliest states for bus and large truck crashes were striking compared to the rest of the list. A total of 941 people died in these states; accounting for 30 percent of the total death toll of all the deadly crashes in the U.S. involving large trucks or buses last year. Here's the breakdown.
3) Florida
Nearly twice as many vehicles were involved in a fatal large truck or bus crash in Florida than the next highest state on the list, Tennessee. 202 people died in 182 crashes last year after colliding with one of these large vehicles in the Sunshine state. There were 6,389 other crashes with a truck or bus; leaving another 3,863 people hurt.
One of the worst truck crashes in the state last year happened in Fort Lauderdale in early January 2019. A truck driver who had previously been ticketed for driving unsafe driving veered into another car and then went through the center divider; hitting a church van from Louisiana. 5 children from the ages of 9-14 – who were on their way to Disney World – were killed in that crash.
2) California
277 people were killed, and another 3,939 people were hurt in crashes involving a large truck or bus in California last year. Out of the 8,696 times that a truck or a bus was involved in an accident, 244 of those crashes had at least one reported fatality.
Two people died in a pile-up in November that involved three semi-trucks and a pickup truck. The driver and the passenger in the Doge pickup were killed on Highway 99 when one of the semi-trucks failed to yield to traffic – hitting one of the other semi-trucks, setting off the deadly multi-car crash. Two men, a 75-year-old and a 62-year-old, were pronounced dead at the scene.
1) Texas
The Lone Star State tops this unfortunate list as the deadliest state for large truck and bus crashes in 2019. 462 people died in 408 crashes last year, and another 7,399 people were injured. There was a total of 12,523 crashes in Texas that involved a large truck or bus.
Last March, two people were killed after their pick-up truck hit a charter bus filled with students in Tyler, TX. Some of the students, adult supervisors and the bus driver were taken to the hospital after the head-on crash. Police say the pick-up truck veered into the other lane, hitting the bus and forcing it off the road.
Protect Your Fleet, Your Drivers, and Your Assets
Large truck or bus crashes can be devastating. Last year the annual rate for fleet vehicle crashes was at 20 percent; meaning one out of every five crashes in the United States involves a fleet vehicle.
Experts say the high number of miles truck drivers log contributes to that double-digit rate. A typical U.S. driver usually travels 12,000 to 15,000 miles every year and has a 1 in 15 chance of being in a crash. But most fleet drivers travel 20,000 to 25,000 miles or more every year, increasing their chance of being in an accident.
Fleet vehicle accidents are some of the most expensive injury claims a business can face; losing an average of $70,000 after a fleet vehicle crash. That's nearly double the cost of an average workplace injury. Fleet crashes also affect productivity, cut into sales numbers, and can hurt a company's reputation.
Studies show that on-board monitoring systems can help improve a fleet's safety record. The Virginia Tech Transportation Institute's Center for Truck and Bus Safety found that fleet vehicle camera systems are one of the most effective ways to reduce driver-related safety incidents. Their study found a 38% reduction in safety-related events involving drivers who were monitored with cameras and given feedback and coaching, including a 75% reduction in severe events.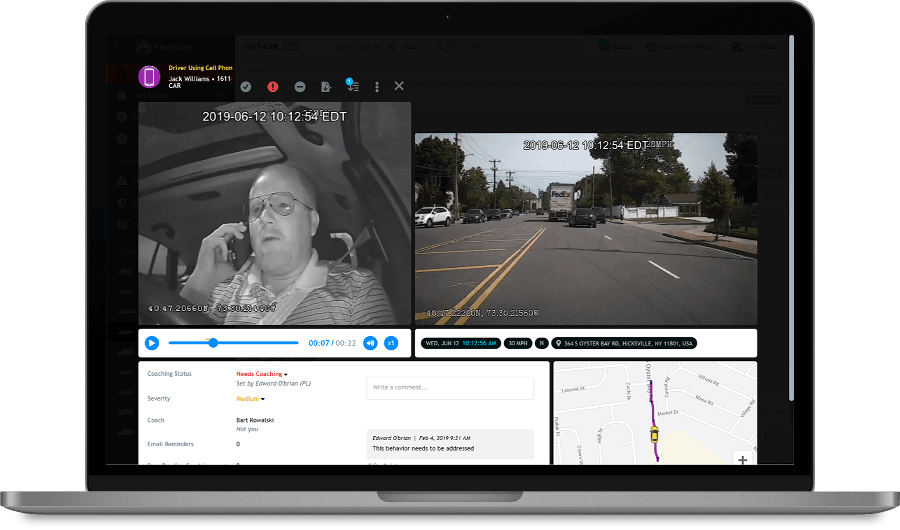 Advancements in camera equipment and AI technology means that drivers can now be automatically monitored for unsafe driving behavior. In-cab alert systems can notify them when they aren't focused on their driving. Systems like this can wake a driver up who is dozing off, let them know if they are drifting out of their lane, following another vehicle too closely, and otherwise not watching the road.
New, advanced coaching systems let managers keep driving training current. They are easily able to spot problematic behaviors and correct the situation before it becomes a larger issue. While helping to prevent crashes, these tools can also help a shop keep CSA scores, and insurance premiums, in check.
Large truck and bus crashes are still all too common. The effects can be catastrophic for the driver, the company and the other people on the road. Contact us today to make sure you are doing everything you can to keep your drivers and your business safe from deadly accidents.