FleetCam® Turns the Garmin® fleet™ 790 Commercial Navigator into a Powerful Video Telematics Device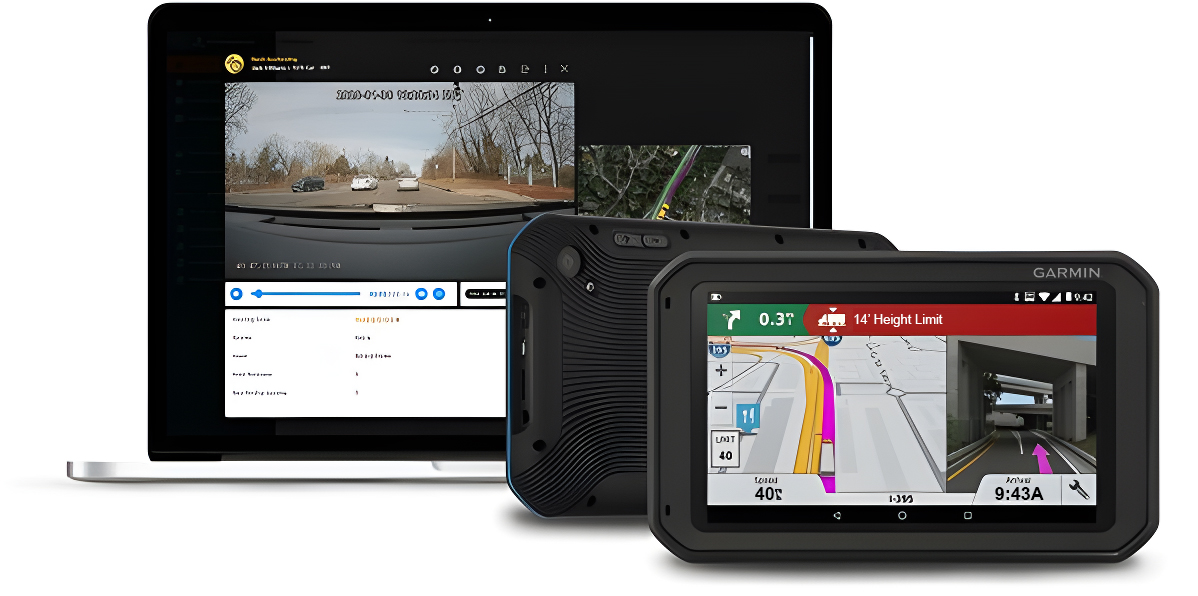 JERICHO, N.Y., March 3, 2020 /PRNewswire/ -- The Garmin® fleet™ 790 commercial navigation device can now serve as a live-streaming video telematics solution for fleets without any additional hardware. Thanks to a strategic relationship with Garmin® and Forward Thinking Systems, FleetCam® is now part of the advanced mobile workforce automation app Field Warrior® and available to use on the android-powered tablet. This is the only turn-by-turn commercial navigation system with a live streaming video telematics solution and comprehensive workforce management solution built into the same device.
The Garmin® fleet™ 790 built-in camera works as a dash cam when paired with FleetCam® through the Field Warrior® app. Now, users can:
Stream live video and download historic video without having to physically access the vehicle
View and download automatically recorded driving event clips on a user-friendly web portal for managers
Track unsafe driving events along the vehicle's route with the snapshot breadcrumb trail
Review clips, set coaching priorities and leave notes using the integrated driver coaching system
The FleetCam® addition is the latest improvement to the Field Warrior® app, an all-encompassing fleet management system. This powerful solution is simple to use, and when paired with Garmin® fleet tablets, provides users with an array of helpful tools including:
A FMCSA-registered ELD solution (requires an additional Bluetooth dongle)
Real-time GPS tracking that captures vehicle location and activity information
Turn-by-turn commercial navigation that factors in each vehicle's size, weight and cargo when providing directions
Active lane guidance with detailed instructions when approaching turns and exits
Driver scorecards that track events like speeding, excessive idling and harsh braking
Fully customizable digital forms for proof-of-delivery, driver inspections, and more
Two-way messaging with dispatch and field workers
"You get a full-blown fleet management tool now that FleetCam is paired with Field Warrior on the Garmin fleet 790," said David Isler, CEO of Forward Thinking Systems. "We've transformed a top-notch commercial navigation device into a complete video telematics and workforce automation solution. It's a tremendous value for customers looking to keep equipment costs down while finding ways to improve workflow and accountability."
"Gone are the days of needing multiple devices to manage your fleet operation," said Chad Sallman, Garmin senior business development manager for commercial solutions. "Now, all you need for your crew is the Garmin fleet 790 and Field Warrior with FleetCam. Garmin's android-powered tablet does it all at a fraction of the price it would cost you to buy all of these amenities separately."
Anyone interested in adding FleetCam® to their current Field Warrior® solution can do so by contacting Forward Thinking Systems and adding the FleetCam® license to their service package. Learn more at https://www.ftsgps.com/partners/garmin/.
About Forward Thinking Systems: Forward Thinking Systems is an innovative leader in fleet management and tracking solutions that help make daily fleet operations safer and more efficient. Founded in 2005, Forward Thinking Systems is headquartered in Jericho, New York, with satellite offices in Florida and Central Europe. For more information, please visit ftsgps.com.
About Garmin International, Inc.: Garmin International, Inc. is a subsidiary of Garmin Ltd. (Nasdaq: GRMN). Garmin Ltd. is incorporated in Switzerland, and its principal subsidiaries are located in the United States, Taiwan and the United Kingdom. Garmin is a registered trademark and fleet is a trademark of Garmin Ltd. or its subsidiaries. All other brands, product names, company names, trademarks and service marks are the properties of their respective owners. All rights reserved. For more information, please visit garmin.com.
Media Contact:
Ashley Preston
[email protected]